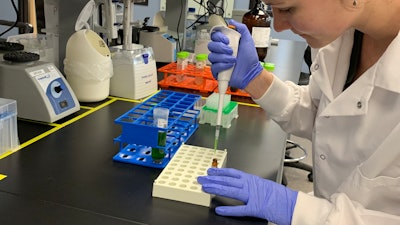 Nova Analytic Lab
Nova Analytic Labs (Portland, Maine) has been known primarily as a cannabis testing lab serving Maine's adult-use and medical cannabis companies. The lab is now adding services for industrial hemp customers.
While cannabis testing in Maine is currently limited by law to crops and products produced in the state, the industrial hemp CBD category is a nationwide and international marketplace.
Unlike medical and adult-use cannabis samples which can only be delivered by qualified individuals in Maine using a manifest, industrial hemp samples can be mailed from other states and countries as long as the products meet the regulatory standards as hemp, and not marijuana.
Nova will offer a free potency/cannabinoid test (value $40) for new hemp customers, with a three-day turnaround time for results. Nova offers comprehensive cannabinoid and terpene tests that detect and measure all key compounds.
Nova is the only certified cannabis lab in Maine that tests for pesticides, which are a more common concern for hemp growers. Nova is also leading the way with new virus tests for Hop Latent Viroid (HLVd), LCV and CCV.
In addition to hemp biomass and flower, Nova has experience working with manufacturers testing CBD edibles, tinctures, distillates, salves and bodycare, and concentrates.