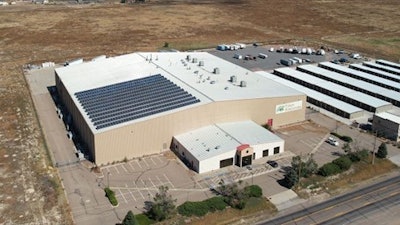 Hilco
Hilco Real Estate announced the sale of a 108,756 total square foot, turnkey hemp and cannabidiol (CBD) processing facility in Pueblo West, Colorado.
Situated on a 6.2-acre parcel, the site is located minutes from Colorado's I-25 corridor, providing easy access to Colorado Springs and Denver, as well as strong distribution coverage throughout the Mountain West region.
Built in 2004 and renovated in 2019/2020, this state-of-the-art CBD extraction and purification facility was formerly occupied by Folium Biosciences, an international hemp processing company. A significant 62% of the facility, or 67,428 square feet, is dedicated cold storage space, with 43,828 square feet usable for deep freezing. As the COVID-19 pandemic prevented operations from ever beginning, the facility is essentially brand new and has been meticulously maintained to date. All machinery and equipment is new, with certain components custom designed by Netherlands-based FeyeCon, a provider specializing in carbon dioxide supercritical technology.
The facility's current layout is suitable for continued use as a ready-to-use hemp processing facility or can be potentially adapted for other types of food and chemical extraction/processing.
The facility is FDA-registered and has the capacity to produce up to 15,000 kilos of oil per month for both full and broad-spectrum CBD products. This property features expansive storage space with ceiling heights up to 47 feet, premium office space with an industrial kitchen, mezzanine catwalks, a conference room, executive offices and an employee cafeteria.