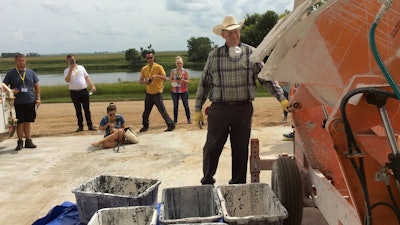 Complete Hemp Processing
Industrial hemp experts discussed opportunities in food, feed, farming, automotive and building materials at the South Dakota grand opening of the state's first industrial hemp processing center near Madison, SD in Lake County.
After five years of planning and working with South Dakota lawmakers on industrial hemp policy, Complete Hemp Processing opened its doors to around 200 farming neighbors and visitors from across the United States on August 3-5.
A.H. Meyer & Sons, a fourth-generation South Dakota family-owned honey and beeswax processing business expanded into growing and processing hemp. Siblings Ken and JB Meyer and Melissa Shipley have set up the new facility in Winfred, SD.
"We want farmers in the area to know we are here," said Ken Meyer. "They can grow industrial hemp and have a place for it to be processed."
The company has contracted with local farmers to grow the 1,600 acres of harvested hemp it will take to keep the facility running three shifts after the upcoming harvest.
The company was also promoting John Peterson and his Wakonda, SD-based Dakota Hemp – another processing plant being installed about an hour away.
The processors see themselves as collaborators building the new industry, not competitors.
"We need at least another two processors in South Dakota to continue to keep up with farmers growing hemp," said Meyer.
After 80 years of US prohibition, industrial hemp, a non-intoxicating version of cannabis sativa, was re-legalized under the 2018 Farm Bill. Further rules for hemp are expected to be incorporated in the 2023-24 Farm Bill, including possibly lessening fees and restrictions for growing hemp for grain and fiber.
Used by humans for 10,000 years, the hemp plant produces some of the world's strongest natural fibers and its high-protein grain (sold as "hemp hearts") is highly nutritious. Reintroducing the industrial crop into US agriculture has been challenging because of a lack of genetics and a 2019-2020 boom-and-bust CBD market that sidetracked the industry and alienated some US farmers.