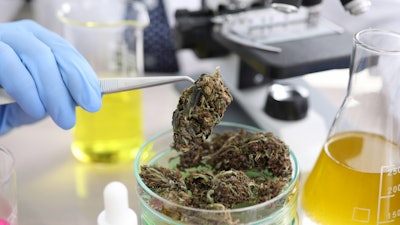 iStock
CannVerify, a provider of brand protection and product information solutions for the cannabis industry, announced its new integration with Confident Cannabis, a laboratory information management system (LIMS) for the cannabis industry. This collaboration aims to provide cannabis brands with a more efficient way to share their lab results with customers, ensuring transparency and accurate product information delivery.
CannVerify has established itself as a trusted platform for brands in the cannabis industry, enabling them to protect their brand integrity, deliver accurate product information, and directly connect with their customers. By partnering with Confident Cannabis, the two companies are empowering brands to link their lab results from Confident Cannabis to CannVerify's platform, simplifying the process of sharing Certificates of Analysis (COAs) with customers through a single QR code.
Through this integration, brands leveraging CannVerify's services can now seamlessly connect their Confident Cannabis lab results, making it easier than ever to provide customers with vital information about product quality, safety, and potency. With a simple scan of a QR code, customers will have immediate access to the COAs, gaining valuable insights and assurance about the products they are purchasing.
Confident Cannabis' LIMS platform enables cannabis labs to manage their operations effectively and efficiently, streamlining workflows, and ensuring compliance with industry regulations. By integrating with CannVerify, brands can harness the power of Confident Cannabis' platform and seamlessly share lab results with their customer base, encouraging transparency and increasing consumer confidence.
CannVerify's integration with Confident Cannabis is now available to all existing and new customers.