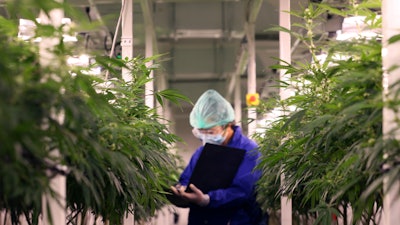 iStock
Realm of Caring, a nonprofit dedicated to cannabis research and education, will advance its work into medicinal cannabis through collaborating on a research project supported by a National Institutes of Health (NIH) grant awarded to Johns Hopkins Behavioral Pharmacology Research Unit through the NIH Registry of Medical Cannabis Use and Health Outcomes funding opportunity.
Building on the long standing collaboration between Realm of Caring and Johns Hopkins Behavioral Pharmacology Research Unit this project will develop and maintain a medicinal cannabis use registry to assess the medical conditions reported as reasons for consumption, how and what products are being used and the associated medical outcomes. Through this publicly accessible registry, Realm of Caring and others may utilize the data to inform both policy and clinical recommendation practices on medicinal cannabis, CBD products and associated conditions and outcomes for patients.
The grant will support research to understand the potential benefits, harms, and outcomes of medicinal cannabis use in the United States. Collaborating on this project allows Realm of Caring to expand the foundation of its already existing Observational Research Registry (ORR), and signifies the importance of the work that has already taken place.
This grant enables Realm of Caring to collaborate on a multifaceted five-year research project with the goal of establishing a data repository to be used as a public resource for better understanding the health impacts of medicinal cannabis use. Furthermore, the project will establish a program of medicinal cannabis product surveillance and testing with the goal of helping patients, providers, policymakers, and the public better understand the health impacts of medicinal cannabis use that may help inform decision making. As one example, the data gathered will also allow Realm of Caring to expand upon its mission to offer the only free, one-on-one cannabis support hotline that assists individuals globally on their health journey.
The hope is that this research project will have an instrumental ripple effect in helping millions of patients, providers and caregivers make informed decisions about incorporating cannabis into their healthcare. Additionally, the project aims to provide data-driven information that may be used to help inform drug policies across the country.
Research results will be posted publicly on the project website for patients, providers and regulators. The nonprofit will also maintain a data repository and an archive of publications will be made available as a resource for individuals seeking data to inform clinical decision making. Realm of Caring's hope is that a public record of product testing will push the cannabis industry towards better quality assurance in manufacturing, testing and labeling of retail products. *
Research reported in this press release is supported by a grant awarded to Johns Hopkins Behavioral Pharmacology Research Unit by the National Institute on Drug Abuse of the National Institutes of Health under award number 1UM1DA059000-01. The content is solely the responsibility of the authors and does not necessarily represent the official views of the National Institutes of Health.