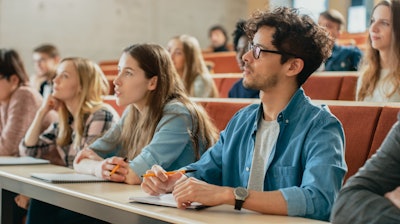 CHICAGO (AP) — More colleges are offering classes in growing and handling marijuana to match demand from growers and dispensaries.
The Chicago Tribune reports colleges and universities in Illinois are noticing the benefits of preparing students for the industry, but that there are restrictions on how fast the schools can offer new programming.
Karen Midden, interim dean of the agriculture sciences college at Southern Illinois University, says she receives near-daily inquiries about the school's cannabis program, and cultivators often call on the hunt for students with expertise.
Midden says said SIU's Carbondale campus plans to bundle classes it already offers with a few cannabis-focused courses, and turn that into a 30-credit hour cannabis certificate program.
More than 200 students enrolled for Northern Michigan University's four-year medicinal plant chemistry degree in 2018.