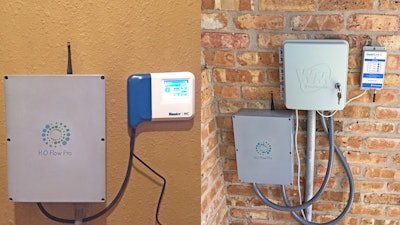 H2O Flow Pro
Tyler, Texas -- H2O Flow Pro yesterday announced the issuance of US Patent No. 10512227 for a patent titled, "Water Flow Management Systems and Methods."
"We have worked for years to get this through the patent system," says Mike Rainone, technology director and partner. "We see this as the next level of water conservation and data analytics that our consumers have been looking for. Now that we have patents, we believe that our organization is primed to do incredibly transformative things in the irrigation world. The applications are endless."
According to Bret Berry, H2O Flow Pro president, the wireless water management system allows customers to monitor daily activity, be alerted to out-of-limit high or low flows, and conserve water. Wireless flow sensors, which remove expensive digging and trenching costs, are poised to be a disruptor in the marketplace.
H2O Flow Pro technology is a smart system that learns the normal pattern of flow for each zone and then interrupts the logic of normal controllers when inappropriately high or low flows are detected.
Once an anomaly is detected, the system sends an email/text alert and the system turns off the zone in which the high or low flow was detected.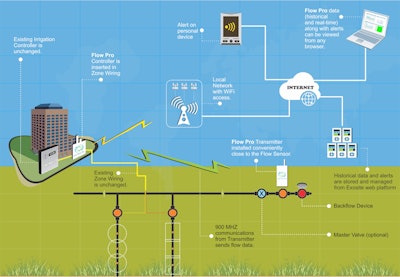 "Now that we have patents issued, we have plans to expand into consumer and agriculture markets," adds Berry. "Everyone is looking for more information about consumption and how to make better decisions when it comes to water use, and we have the means to supply our customers with all of the information that they need."
H20 Flow Pro was founded in 2013 with the vision of making water management more accessible. Since its inception, the company has focused on creating easy-to-install wireless water monitoring systems. The idea is to give people real time data to make the best decisions about water consumption.