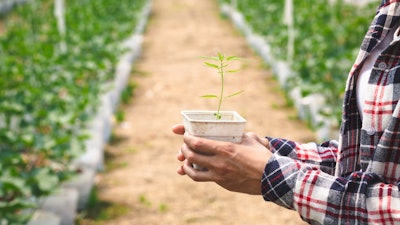 iStock
On April 14, 2022, New York Governor Kathy Hochul announced the first adult-use cannabis licenses granted in the state. The Cannabis Control Board approved 52 adult-use cannabis conditional cultivator licenses across the state. The announcement also advances the Seeding Opportunity Initiative, which aims to allow equity entrepreneurs to be the first to make adult-use cannabis sales in New York with products grown by New York farmers.
The approved licenses (see below) come from more than 150 applications submitted to the Office of Cannabis Management (OCM). OCM will review applications on a rolling basis and work quickly to advance them for approval.
In February, Governor Hochul signed legislation creating the cannabis conditional cultivator licenses. The licenses allow existing hemp farmers in the state to apply to grow cannabis this year for the forthcoming adult-use cannabis market.
The first 52 adult-use cannabis conditional cultivator licenses have been awarded to:
Aeterna Cannabis, LLC

American Weed, LLC

B30F Enterprises, LLC

Bone Creek Farm, LLC

Breathing Web Farms, LLC

Brian F Conlon

Canadice Farm, LLC

Chickidoo, LLC

Claverack Farm, LLC

Clear Natural, LLC

Colorado's Brand Distributing, LLC

Cornucopia Growers, LLC

East End Flower Farm, LTD

Empire Agricultural Services, LLC

Enfield Glen Hopyard, LLC

Fat Nell, LLC

Grateful Valley Farm, LLC

Greenleaf Cannabis, LLC

HappyHealing420, LLC

Hemp Industry Consultants, Inc.

Honest Pharmco, Inc

HR Botanicals, LLC

Hudson River Hemp LLC

Hurd Farm, LLC

JD Pinnacle Holdings, LLC

Kennedys Herbal Solution

Lunulata, LLC

Main Street Farms, LLC

Michael D Warholic JR, DBA Township Valley Farm

Oak Queens, LLC

Outcast Acres Farm, LLC

Passion Field Farm, LLC

Peter Pracilio, DBA Mount Vision Farms

Phil Spinelli Farrier Service, LLC

Plant Connection, Inc

ReliefLeaf, LLC

Rippin' Ridge Farm, LLC

ROC Dispensary and Hydroponics, LLC

Route 27 Hopyard, LLC

Slack Hollow Organics, LLC

Spadafarm, LLC

Terrace Corporation of New York

The Hemp Division Inc.

The Releaf Market, LLC

Timothy G Hunter

Tricolla Gardens, LLC

Twin Arch Farm, LLC

Unifi Group, LLC

Weathertop Farm, LLC

Westkill Bend Inc

Wheatfield Gardens, LLC

Yager Farms, Inc
"New York's farms have been the backbone of our state's economy since before the American Revolution, and now, New York's farms will be at the center of the most equitable cannabis industry in the nation," Governor Hochul said.
As part of the Seeding Opportunity Initiative, candidates must meet two prongs of eligibility to qualify. First, they must have a cannabis-related conviction prior to the Marijuana Regulation and Tax Act (MRTA) on March 31, 2021, or had a parent, guardian, child, spouse, or dependent with a pre-MRTA cannabis-related conviction in the State of New York. Second, they must also have experience owning and operating a successful business in the State of New York.