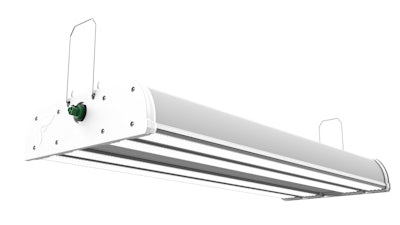 Business Wire
Fluence, a provider of LED lighting solutions for commercial cannabis and food production, today launched RAPTR, the company's latest lighting solution built to replace 1,000-watt, high-pressure sodium (HPS) fixtures.
Fluence designed RAPTR to help enable cultivators to retrofit their lighting solutions. In most cases, existing HPS electrical infrastructure such as cables or distribution panels can be reused for RAPTR.
"Retrofitting a facility with LED technology opens the door to more light, creates opportunities for greater yields and ultimately increases revenue," said Jordon Musser, chief product officer of Fluence. "RAPTR is designed to lower operating expenses for cultivators, increase light levels or even achieve both without changing the existing facility layout."
Fluence's research exploring the effects of LED lighting on cannabis and produce crops has shown that higher light intensities boost production at a nearly one-to-one ratio. Multiple Fluence research studies and customer trials found that, for every 1% increase in photosynthetic photon flux density (PPFD), growers are achieving a corresponding 1% increase in yield. For commercial produce growers, increasing light output is certainly desirable but cannot come at the expense of energy efficiency. RAPTR achieves higher light levels than its HPS equivalent—boosting yields for cannabis and produce growers—while helping to optimize a facility's energy usage.