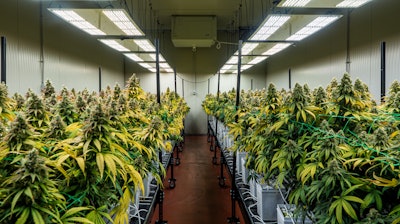 iStock
Fluence, a global provider of energy-efficient LED lighting solutions for commercial cannabis and food production, announced an exclusive partnership with BioLumic, a plant-growth biotechnology company that uses ultraviolet (UV) light to increase plant yields, health and quality through "Light Signal Recipes."
Under the agreement, Fluence and BioLumic will collaborate to deliver BioLumic's UV Light Signals through Fluence's LED lighting solutions.
Fluence and BioLumic will initially work with select cannabis cultivation partners while industrializing commercial delivery systems for UV light that enhance Fluence's end-to-end product offering in 2023.
Fluence's lighting systems will deliver BioLumic's UV light treatments in the propagation phase of plant production—one-time treatments that trigger benefits that accrue through the entire plant growth cycle. Pairing BioLumic and Fluence's market solutions enables cultivators to achieve high-quality yield gains, enhance cannabinoid levels and improve overall plant quality while reducing cycle-to-cycle variability.
"BioLumic's Light Signal Recipes allow cultivators to fully and frictionlessly harness UV lighting to improve plant growth and genetic expression without big input costs or chemicals," said Steve Sibulkin, CEO of BioLumic. "This partnership will accelerate the development of BioLumic's Light Signal Platform, increase our company's access to the global horticulture market and strengthen Fluence's horticultural lighting portfolio. It's a tremendous win for growers looking for new ways to grow more with less."