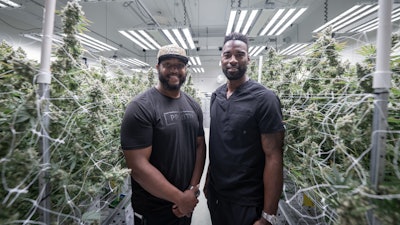 Primitiv
Pro Football Hall of Famer Calvin Johnson Jr., along with his co-founder of Primitiv, Rob Sims, and Fohse, announced their new exclusive partnership where Fohse will equip Primitiv's Michigan-based cannabis cultivation facility with LED fixtures to increase and optimize its cannabis production.
Johnson Jr. and Sims, former NFL teammates, founded Primitiv in 2021. The company is dedicated to the advancement of cannabis as a form of elevated wellness. Both Johnson and Sims suffered from the long-term effects of the physical and mental punishment sustained during their playing careers.
Primitiv's vision is to positively impact the global cannabis industry, changing stigmas and stereotypes by educating people about the plant's benefits and producing innovative products that help people and athletes optimize their wellness through plant-based medicine.
"I truly believe in the healing power of the plant and it's our mission to educate the public about our mission to help break down the stigmas associated with cannabis, while also pushing the envelope in product innovation. Part of growing quality product comes from surrounding yourself with the best team possible, and after doing our research, we have decided to partner with Fohse since they make the best grow light on the market," said Johnson Jr.
Fohse has installed the Scorpio in Primitiv's grow room one and the plants are thriving, producing the best yields out of that room's history since the lights were installed, while also saving costs due to the functionality and energy efficiency of the lights themselves. Primitiv will continue to build out its grow facility in partnership with Fohse and plans to have its grow rooms bathed with the Scorpio LED lights by this fall.