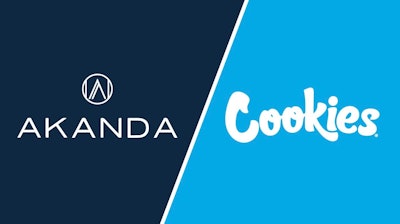 Akanda/Cookies
Akanda today announced an exclusive license agreement with Cookies that will allow Akanda to pursue the current medical and future adult-use opportunities in Europe with possibly one of the best-known cannabis brands in the world.
Under the terms of the license agreement, Akanda gains the ability to cultivate, manufacture and distribute Cookies strains, and the rights to sell Cookies branded products, including non-cannabis merchandise, in Portugal. Akanda intends to initially produce EU GMP certified Cookies branded high THC medical cannabis products at its flagship indoor premium cultivation and manufacturing facility in Sintra, Portugal. Additionally, Akanda is able to exclusively open and operate flagship Cookies branded pharmacy outlets throughout the country.
"Adding the iconic Cookies brand and their high THC strains to Akanda's platform is an important catalyst in our quest to lead the cannabis industry in Europe. Cookies premium genetics are an essential pillar to have in our portfolio as these markets begin to open up. We can't wait to introduce the brand to consumers in Portugal, and strains to patients throughout Europe," said Akanda's CEO Tej Virk.
"The Cookies license agreement is enabled by our May 2022 acquisition of Portugal-based Holigen, which makes Akanda a cultivator, manufacturer and distributor of EU GMP certified medical cannabis with a state-of-the-art 20,000 square foot indoor cultivation site in Sintra dedicated to the cultivation of high THC premium cannabis as well as a large seven million square foot (180+ acres) outdoor facility located two hours south in Aljustrel," Virk continued. "It is further evidence that Akanda has secured one of the most prized cannabis assets in Europe. With brands and strains like Cookies, I've never been more confident about Akanda's promising future."