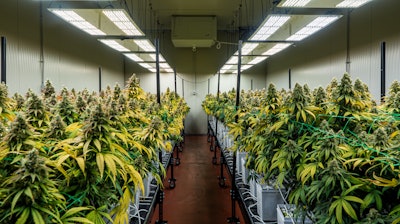 iStock
Green Capital Investments (GCI), parent of Phinest Cannabis, and Apical Biotek, announced a new tissue culture laboratory joint venture called Steristarts. The new company's mission is to provide tissue culture technology, genetics, and nursery operations to cannabis cultivators worldwide. Steristarts will also function as the cornerstone of Phinest's California cannabis nursery operation.
This venture brings together a leader in cannabis genetics and nursery operations with a leading innovator in cannabis tissue culture science. The new company will be housed inside Phinest Cannabis' 40k ft² nursery facility in Sacramento.
Steristarts succeeds Phinest's previous vendor. "We'd like to thank our previous tissue culture vendor's team for a long and fruitful relationship," said Fred Barnum, CEO of Phinest Cannabis, "as Phinest explores opportunities outside of California, we're at a point where owning this technology and process presents the best strategic step forward."
Founded by CEO Justin Givens in 2017, Apical Biotek is a pioneer in proprietary technologies and methods of tissue culture for cannabis. The company has delivered superior results in remediating Hop Latent Viroid (HpLVd), a dangerous pathogen responsible for destroying billions of dollars per year of commercial cannabis in the U.S. "Our tech has proven effective in completely removing HpLVd," said Mr. Givens, "with 0% re-emergence of HpLVd several years after subjecting germplasm to our proprietary initiation procedures."
According to Givens, Apical Biotek's tissue culture technology is specifically suited to large-scale nurseries such as Phinest's. "Our proprietary methods and tech allow us to produce mother stock that's higher yielding and production-ready faster, thus improving the overall efficiency of nursery operations. We know this because Apical Biotek anchored its own nursery operations around mother plants produced by our techniques."
This venture opens the door to hundreds of new genetic licensing opportunities and additional breeder relationships with Phinest. "Thanks to their stellar reputation, Justin and his team have built a library of more than 400 cannabis cultivars and a network of superior breeders," said Dakota Sullivan, VP Sales for Phinest Cannabis. "We're excited to combine resources, especially as we expand into territories that haven't had access to clean and proven genetics."
"We're honored that Apical Biotek is strategically aligning with Phinest as their partner in this new joint venture," said Fred Barnum. "Together, we will make Steristarts and Phinest the best platform for high performance cannabis genetics and clean tissue culture-derived clones."