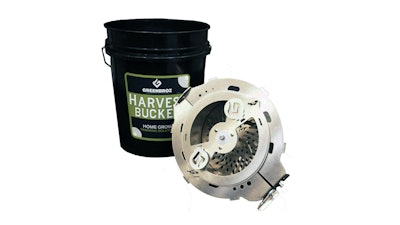 GreenBroz
GreenBroz , a provider of post-harvest cannabis processing technology, announces the European debut of the Harvest Bucket, an advanced home grow trimming solution. Crafted with all 316 stainless steel hardware, this machine is designed to be gentle on the product, durable, and easy to clean.
Like all of the other machines in its automatic GreenBroz trimmer family, the Harvest Bucket is crafted to closely mimic the precision of hand trimming while preserving the flower's character and potency.
"As a harvest solution company, our approach has always been unique in the field due to the gentle nature and efficiency of our machines," said Cullen Raichart, Founder, and CEO of GreenBroz Inc. "From our patented blades to the top-loading design and 316 surgical stainless material, we remain steadfast in maximizing efficiency and yields while preserving the plant's fragile structures and integrity. So, we are pretty excited to extend our signature trimming technology to home growers now, too."
The Harvest Bucket has key features that make it an essential tool for craft growers. Unlike traditional tumble trimmers, the Harvest Bucket's top-loading design grants users complete control over the trimming process, eliminating over-trimming. Growers can further streamline their production by utilizing the bucking feature built into the clamp that goes on top of the bucket. Finally, the Harvest Bucket utilizes 316 surgical stainless steel wherever the machine touches the product, avoiding contamination and making cleaning nearly effortless.
For international or wholesale inquiries, contact GreenBroz at 844.DRY.TRIM or info@greenbroz.com. To learn more about all GreenBroz trimming solutions, go to www.greenbroz.com/trimmers.