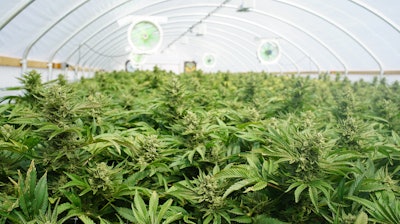 iStock
Clever Leaves, a global medicinal cannabis company, announced today that it has been awarded the International Declaration of Carbon Neutrality by 100% Carbon Neutral Program for its active commitment to environmental sustainability and climate change mitigation. Clever Leaves claimed it is the first known vertically integrated medicinal cannabis company worldwide to have achieved international certification for carbon-neutrality.
Clever Leaves' measures include using passive techniques to harness solar energy and optimizing waste management practices. The company has also forged partnerships with local recycling associations, initiated reforestation projects, and integrated rainwater into its irrigation processes. Through sustainable practices, the company repurposes or recycles more than 50% of waste into productive processes.
While producing a kilogram of dried flower, Clever Leaves generates just 16 kilograms of CO2, compared to traditional "indoor" cultivation methods that generate up to 2,300 to 5,200 kilograms of CO2 per kilogram of dried flower. The Company's energy consumption per kilogram of dried flower is 62 kilowatt-hours, in stark contrast to "indoor" usage of up to 5,000 kilowatt-hours.
Through the implementation of sustainable practices, Clever Leaves' carbon footprint stood at 318 tons of carbon dioxide equivalent (CO2e) across all production operations in 2022. Furthermore, Clever Leaves has offset its remaining emissions by acquiring international carbon credits from carbonfund.org and supporting emission reduction projects.
This entire process adheres to the GHG Protocol standard and has undergone thorough evaluation and verification by "La Tercera Mirada" and the "International 100% Carbon Neutral Program."