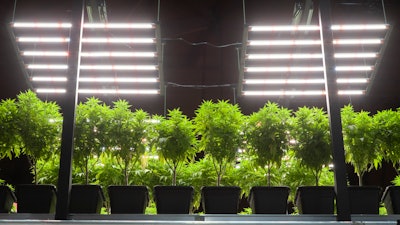 iStock
StateHouse Holdings, a California-based, vertically integrated cannabis enterprise, today announced the launch of the Intercanopy Lighting Validation Group (ICLVG) study. Initiated by Statehouse and conducted in partnership with the Cannabis Research Coalition (CRC), and a group of anonymous global growers, the study will determine the impact of Flower Direct Cannabis Cultivation (FDC2) lighting principles through the application of Grow Light Design fixtures.
GLD systems are patented, two-level fixtures that create a cube of light surrounding the crop that can be rotated or tilted to maximize efficiency and photon capture. As crops grow, cultivators can adjust the placement and direction of the light to channel it directly on the crop's flowers. This ICLVG will each examine the application of the same daily light integral (DLI), a measure of total photosynthetically active radiation "light" plants receive during a 24 hour day, using top lighting alone and top lighting combined with GLD's system. The study will determine each lighting system's impact on cannabis crop biomass yield, biomass category ratio and finished flower quality with results expected in late Q3 2023.
"In partnership with scientists and growers, we together will now explore new lighting technology that has the potential to redefine our approach when applying light in Cannabis production," says Travis Higginbotham, VP of Cultivation at StateHouse Holdings. "We stand committed to probing the validity of this innovative three dimensional lighting approach with these specific surround fixtures. Our joint endeavor aims not only to increase yields, resulting with a reduced cost per pound, but also showing how one can achieve an increased energy use efficiency per gram produced in combination. This project may reveal a path where growers now consider square foot optimization further, rather than square foot expansion when considering business growth."
During the study of FDC2 lighting principles, StateHouse will share insights into additional principles of Flower Direct Cannabis Cultivation including the importance and impact of airflow, supplemental CO2, water use efficiency and the homogenization of the growing environment in general.