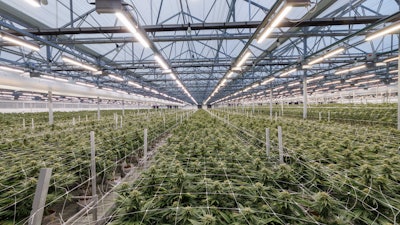 Fluence
Fluence, a global provider of energy-efficient LED lighting solutions for commercial cannabis and food production, announced today the success of its partnership with Green Fields, an Israeli grower operating the largest cannabis facility in Israel. With Fluence technology, Green Fields has boosted yields, improved THC and terpene content and achieved consistent year-round crop growth inside its more than 42,000-square-meter facility.
Green Fields worked with REMY, Fluence's Israeli distribution and integration partner, to select VYPR 3p fixtures with BROAD R3 spectrum technology to provide a spectrum that is designed to supplement and replicate natural sunlight in its facility. Coupled with the facility's F-CLEAN technology, a fluoropolymer sheet that transmits the full spectrum of natural sunlight during the day, the VYPR 3p allows Green Fields to maximize lighting conditions to help drive peak growth regardless of season.
Each zone of Green Fields' flagship greenhouse is equipped with a special air treatment unit that stabilizes humidity, temperature and airflow to reduce microclimates and improve uniformity. The cultivation team uses innovative monitoring technology to control other critical aspects of the grow, including root zone management and irrigation. Green Fields also leverages REMY's expertise and Fluence's team of in-house horticultural lighting experts who support the agronomic team in adjusting and optimizing light levels, photoacclimation, pest control, irrigation strategies and mother stock treatment.
The Green Fields facility houses the biggest agronomic lighting system ever installed in Israel. Since the deployment of Fluence lights, Green Fields has cultivated between 15 and 18 tons of cannabis per year.