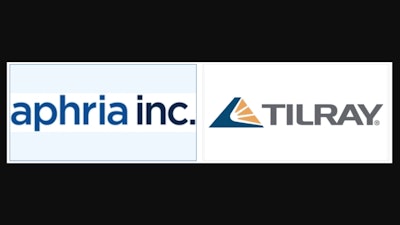 Business Wire
Leading global cannabis company Aphria and Tilray, a pioneer in cannabis research, cultivation, production and distribution, have entered a definitive agreement to combine their businesses and create the world's largest global cannabis company.
The deal is pursuant to a plan of arrangement under the Business Corporations Act (Ontario), and the implied pro forma equity value of the Combined Company is approximately US$3.9 billion, based on the share price of Aphria and Tilray at the close of market on December 15, 2020.
Once completed, the new entity will have principal offices in the United States (New York and Seattle), Canada (Toronto, Leamington and Vancouver Island), Portugal and Germany, and it will operate under the Tilray corporate name.
The new company, supported by low-cost, state-of-the-art cultivation, processing, and manufacturing facilities, will have a portfolio of branded Cannabis 2.0 products in Canada.
Internationally, the company will be well-positioned to pursue growth opportunities with Aphria's medical cannabis and distribution footprint in Germany, and Tilray's European Union Good Manufacturing Practices (EU-GMP) low-cost cannabis production facility in Portugal, which has export capabilities and tariff-free access to the European Union to meet increasing global demand for medical cannabis.
In the United States, the company will have a strong consumer packaged goods presence and infrastructure with two strategic pillars, including SweetWater Brewing Company, a cannabis lifestyle branded craft brewer, and Manitoba Harvest, a leading hemp food manufacturer and a pioneer in branded CBD and wellness products.
Under the terms of the arrangement, the shareholders of Aphria will receive 0.8381 shares of Tilray for each Aphria common share, while holders of Tilray shares will continue to hold their Tilray shares with no adjustment to their holdings.
Upon the completion of the Arrangement, Aphria Shareholders will own approximately 62 percent of the outstanding Tilray Shares on a fully diluted basis, resulting in a reverse acquisition of Tilray, representing a premium of 23 percent based on the share price at market close on December 15, 2020 to Tilray shareholders.
On a pro forma basis for the last twelve months reported by each company, the new company would have had revenue of US$685 million.
The new entity will be led by Aphria's current Chairman and Chief Executive Officer, Irwin D. Simon, who will become Chairman and Chief Executive Officer. The board of directors will consist of nine members, seven of which, including Simon, are current Aphria directors and two of which will be from Tilray, including Brendan Kennedy, and one of which is to be designated.
Additional senior leadership positions will be named at a later date.
"This is an exciting day for both companies including our 2,500 employees, for the cannabis industry, and for patients and consumers around the world," Simon said in a statement.