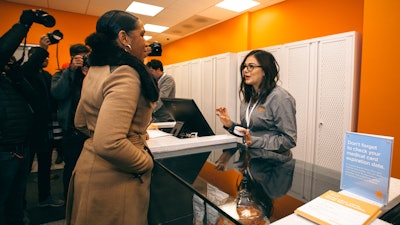 Cresco Labs
Cresco Labs served 3,145 people on New Year's Day at its five Sunnyside* Dispensaries in Illinois.
The average ticket price at its locations in Lakeview, Elmwood Park, Champaign, Buffalo Grove and Rockford totaled $135, according to the company. The dispensaries sold 9,258 cannabis products on opening day.
Customers began to form lines as early as 8:00 pm on New Year's Eve, and lines wrapped around the buildings throughout the day. The challenge now will be sustaining interest among the company's many patrons.
The first sale in the state of Illinois went to Jacqueline Ryan from Forest Park and took place shortly after 6:00 am at Sunnyside* Lakeview.
Ryan was followed by siblings Elise and Aaron Swopes, who participated in Cresco's Chicago incubator program, which is part of the company's SEED (Social Equity and Educational Development) initiative.
Illinois Lt. Gov. Juliana Stratton was also a customer. Stratton played a critical role in shaping the state's cannabis legislation.
In a statement, Charlie Bachtell, Cresco Labs CEO and co-founder said that Illinois is predicted to be one of the largest recreational cannabis markets in the United States. "Cresco is uniquely positioned in the supply-constrained state, with permission for the largest cultivation footprint at 630,000 square feet and ten retail dispensaries, including three in high traffic areas in the city of Chicago," he said.
According to Joe Caltabiano, Cresco Labs president and co-founder, the company will add five more dispensaries in high profile locations, including one near Wrigley Field.
According to the company, it is one of the largest vertically integrated multistate cannabis operators in the United States.