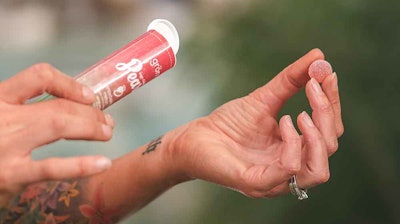 Grön
Grön is now selling its solventless vapor-extracted cannabis concentrate infused sugar-coated pearls, mega pearls and chocolate bar lineup in Oregon.
The company said that unlike solvent-free extracts where solvents are removed at the end of the process, vapor-static extraction uses temperature and electricity to separate cannabinoids from the cannabis flower. The process uses 1/14th the energy of conventional CO2 extraction, and its only byproducts are water vapor and compostable cannabis flower material. The solventless concentrate is flavorless and free of all plant starches and sugars.
"It's the next step in cannabis technology," said CEO Christine Smith. "Grön is taking a big step forward by partnering with Lighthouse Inc. to offer vapor-extracted solventless infusions to our Oregon community. The sustainable, high-volume process delivers a product that is good for the customer and good for the earth."
Grön produces adult-use cannabis-infused edibles. The company said its ingredients are organic, single-origin, Fair Trade Certified, and locally sourced whenever possible. Product offerings include cannabis-infused chocolate, sugar-coated pearls, mega pearls and candy-coated pips. Grön cannabis edibles are available in Arizona, Nevada, Oklahoma, and Oregon, with multiple new markets coming online in 2022.