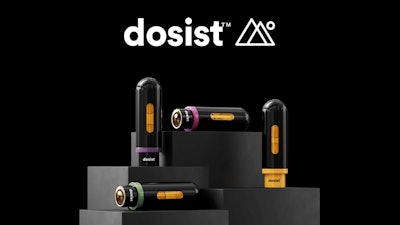 Dosist
California cannabis supply chain company, Herbl, in tandem with Final Bell, a developer of cannabis equipment, has announced an exclusive distribution partnership with dosist, a brand that provides dose-controlled wellness products. Herbl will distribute the brand's entire product line throughout California, starting on April 18, 2022, just in time for 4/20.
Founded in 2016, dosist is known for introducing consistent, effective and predictable cannabis experiences through proprietary vape technology. The company's product line includes rechargeable and disposable dose pens, fast-acting vegan gummies, live resin edibles and cartridges.
"Dosist has played a vital role in making cannabis accessible to mainstream audiences, and we are proud to partner again with an industry pioneer that continues to deliver innovative products," said Mike Beaudry, CEO of Herbl.
All dosist products undergo rigorous safety and quality control testing to ensure optimal patient and consumer experiences.
Founded in 2016, Herbl delivers to more than 1,000 licensed retailers in the state.