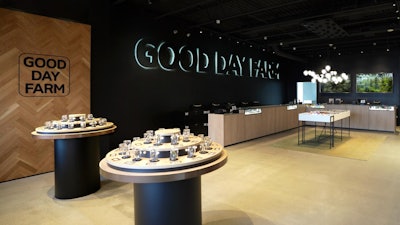 Good Day
Good Day Farm, a medical cannabis brand has announced an expanded retail footprint in Missouri, with 19 Good Day Farm-branded dispensaries prepared to serve the state's recreational consumers and medical patients as soon as this Friday, February 3.
In addition to having what it's calling Missouri's largest branded retail footprint, Good Day Farm operates one of the state's largest cultivation facilities: A 106,000-square-foot grow operation in Columbia. Opened in 2022, the facility employs more than 250 people and is responsible for creating the Company's celebrated product portfolio, including premium flower, pre-rolls, vapes, concentrates, and edibles.
In an effort to best serve both recreational and medical patients in Missouri, Good Day Farm retail locations will now have extended hours of operation, open until 10 p.m. Monday-Saturday and 8 p.m. on Sunday.
All told, Good Day Farm and its licensed business partners now employ more than 500 Missourians, with plans to double that number by the end of this year.
Good Day Farm, which also operates in Arkansas, Mississippi and Louisiana, has one more surprise in store for Missouri: Limited Edition King Cake Gummies. Dropping at select stores in February, the gluten free, vegan THC-infused gummies taste of rich cinnamon dough and sweet cream, a flavor inspired by King Cake, a Mardi Gras tradition that's just as popular in St. Louis as it is in New Orleans.