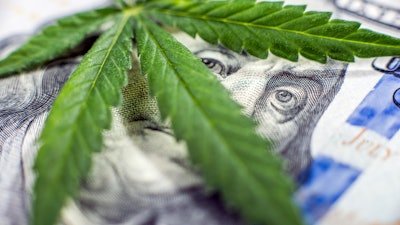 iStock
BDSA, a provider of market intelligence for the cannabis industry, today released its updated five-year global legal cannabis market forecast. Global legal cannabis spending grew 4.8% to $32 billion in 2022 and forecasts a compound annual growth rate (CAGR) of 13.2% from 2022 to 2027, resulting in a market size of $59.6 billion by 2027. Despite economic uncertainty and rising inflation, BDSA expects legal U.S. cannabis sales to grow 14% by the end of 2023.
"Legal cannabis spending slowed significantly in 2022 due to rapid price declines across all markets," said Roy Bingham, Co-Founder and CEO of BDSA. "Despite this, our updated forecast predicts strong growth in the U.S. driven by developing markets, particularly the adult-use markets of Missouri, New Jersey and New York. Additionally, four of the top five U.S. markets—Florida, Illinois, Massachusetts and Michigan—will increase by a combined 9.5% in 2023, adding nearly $770 million in new spending."
While legal cannabis sales saw rapid growth during the height of the pandemic, 2022 marked the first overall spending contractions in many mature markets throughout the U.S., with the mature adult-use markets of California, Colorado, Nevada and Oregon suffering a combined spending decline of 16.5%. While BDSA expects to see a return to growth for most mature markets in 2024, mature markets in the U.S. are expected to grow slower during the forecast period. However, several newer markets accomplished a strong expansion in 2022, and growth in new and emerging markets is expected to ramp up in the coming years. New Jersey and Montana, which launched adult-use sales in 2022, saw approximately 140% growth last year, while Missouri grew by 84% in its second full year of medical-only sales.
By 2027, adult-use sales are forecasted to contribute 78% of the total global legal cannabis spend, up from 64% in 2022. U.S. legal cannabis spending is expected to grow at a CAGR of 11.3%, from $26.1 billion in 2022 to $44.5 billion in 2027, driven primarily by the New York, Florida, New Jersey and California markets. BDSA forecasts the launch of several new adult-use markets by 2027, including Maryland and Oklahoma in 2024 and Florida and Ohio in 2025. New adult-use markets in Hawaii and Minnesota are also possible. Although BDSA does not expect any comprehensive U.S. federal regulations on cannabis in this timeframe, there is a possibility of partial reform, such as cannabis banking, within the next few years.
Globally, cannabis markets beyond the U.S. and Canada are forecast to grow at a CAGR of 40% to $9.5 billion in 2027, up from $1.8 billion in 2022. BDSA forecasts the Canadian market will see 12% overall growth this year, becoming a $5.7 billion market by 2027 at a CAGR of 6.3%. New adult-use markets and Germany and Mexico are the primary drivers of global growth, and current limited medical cannabis programs are expected to expand, primarily within the European Union and Latin America.