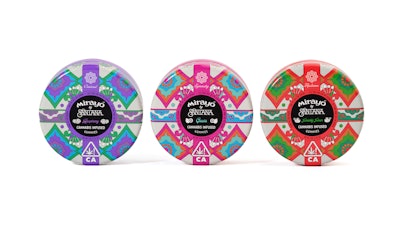 Mirayo by Santana
The Parent Company today announced the extension of the company's licensee agreement with Mirayo by Santana, a line of cannabis products curated by guitarist and longtime cannabis advocate Carlos Santana.
Mirayo currently offers cannabis products in key categories, including whole flower and pre-rolls. Mirayo's 0.5-gram pre-rolls and 7-gram jars of flower are available in strains or categories of consciousness like Radiance, Symmetry, Centered and Essence.
This May, Mirayo introduces its new line of solventless 10mg hash rosin gummies made with all-natural ingredients. The gummies are in the shape of the Sacred Heart, an iconic figure found on Santana's hats and merchandise, and will be available in flavors like Guava, Prickly Pear and Raspberry at the Company's retail locations across California.
"Cannabis, to me, is a door to enhanced meditative reflection and creative expression," said Santana. "With Mirayo, we hope to help more people tap into their creative zone and find kindness and compassion as well as spirituality, individuality and higher consciousness. I'm excited to introduce our upcoming line of Mirayo gummies this spring and I look forward to our continued partnership with The Parent Company. Together, we can think deep, high thoughts and sculpt a new life and world."
The Parent Company and Mirayo also intend to invest in advancements in product R&D, brand awareness and marketing campaigns that will include a new website featuring e-commerce capabilities.