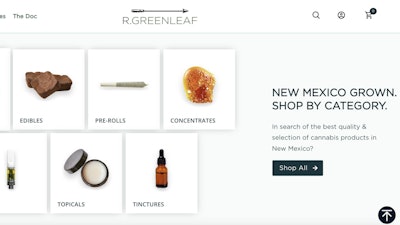 Schwazze
Schwazze announced the launch of a new e-commerce shop site for R.Greenleaf, its New Mexico-based retail banner with 17 locations throughout the state. This new shopping experience allows customers to 'skip the line and order online' by ordering ahead to reserve product and picking up in store. Customers can create an account on the new shop site to access prior orders and receive special offers while also enrolling in R.Greenleaf's customer loyalty program, Gratify.
"We are excited to bring the convenience of ecommerce shopping to all of our R.Greenleaf locations. Our enhanced online shopping experience allows us to deliver our brands, product assortment and dedicated service to customers in all of our neighborhoods as we continue to expand throughout the state," said Ken Diehl, Division President – New Mexico.
R.Greenleaf, offering a wide variety of quality products serviced by knowledgeable staff, has grown from 10 locations to now 17 since Schwazze's acquisition nearly one year ago. All locations serve the needs of medical patients as well as recreational consumers.
Since April 2020, Schwazze has acquired, announced the planned acquisition of, or opened 44 cannabis dispensaries as well as seven cultivation facilities and two manufacturing assets in Colorado and New Mexico. In May 2021, Schwazze announced its BioSciences division and in August 2021 it commenced home delivery services in Colorado.