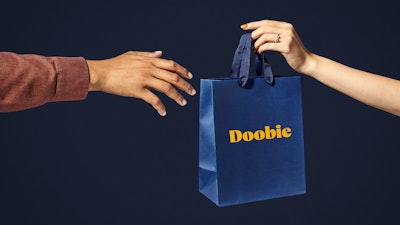 Doobie
Doobie announced a direct-to-consumer (DTC) recreational cannabis delivery partnership with fast-acting cannabis beverage brand Cantrip. Through Doobie Direct, customers in Massachusetts can now order delivery of their favorite Cantrip products on the Cantrip website.
"We are excited to partner with Doobie to deliver our high-quality cannabis beverages directly to customers in Massachusetts" said Dylan Lowery, COO and co-founder at Cantrip. "Through Doobie Direct, Cantrip can reach new customers who might not enter a dispensary but are curious and desire healthier alternatives to alcohol," he added.
Cantrip offers vegan, gluten-free, fast-acting cannabis beverages in an array of unique flavors, including fan favorite Blackberry Lavender. Additionally, the company is committed to positive social impact through its collaborations with organizations supporting the LGBTQ+ community as well as emerging artists.
"Doobie Direct provides companies the opportunity to strengthen their brand loyalty with customers by offering a convenient and safe delivery solution," said Ericca Kennedy, Co-Founder of Doobie. "We are proud to work with Cantrip, a brand that produces a great product and is committed to positive social impact."
Doobie's partnership with Cantrip is the cannabis delivery partner's fourth DTC partnership, following launches with leading brands Fernway, CANN and TILT Holding's Commonwealth Alternative Care.
Doobie's product offerings can be viewed at trydoobie.com, which provides a streamlined, mobile-optimized shopping experience. Customers can browse popular products by category or brand, and Doobie expert consultants are available via chat and phone at 1-888-8DOOBIE to answer any questions. Doobie empowers consumers to be confident in their choices and delighted with their experiences, ensuring that happiness is delivered.