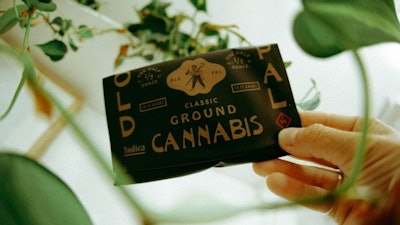 Old Pal/Nabis
Nabis, the licensed cannabis wholesale platform, today announces an exclusive distribution partnership with multi-state operating flower brand Old Pal to expand its reach in California, and bring ethically, sustainably sourced cannabis to consumers across the state. Retailers with access to Nabis' Marketplace are now able to order and receive Old Pal's products, such as its Infused Blunts and Ready to Roll kits, with a 2-day delivery turnaround.
"Nabis is rooted in broadening cannabis by providing choice, access and innovation, attributes that undoubtedly are aligned with Old Pal and our ethos," said Rusty Wilenkin, CEO and Co-Founder of Old Pal. "As California becomes more competitive, brands need to be efficient and use distributors that give them exactly what they need. Nabis gets that, which makes this partnership a no-brainer for us."
With a focus on quality and sustainability, Old Pal shifted to a "farm direct" model three years ago, allowing it to work more closely with the supply chain, leading to a fruitful cultivation partnership with POSIBL, the engine for several of California's leading brands. As one of the first pilot members of the national initiative, POSIBL played a pivotal role in implementing Old Pal's quality control program that aims to analyze and score all Old Pal products nationwide, ensuring consistent, compliant production.
Today, Old Pal is providing consumers with cost-effective, 100% pesticide-free cannabis year-round, that is grown using 50% less water and 150% less power than competing cultivators. Transcending plant production, Old Pal's ethos of providing consumers with classic, shareable™cannabis is apparent in its packaging and design, often nodding to the timelessness and nostalgia of consumption.
"Old Pal's foundational values and commitment to fostering a community-oriented culture through affordability and trust mirrors our vision to support the growth of a fair and accessible cannabis industry," said Jun S. Lee, Co-Founder and Co-CEO of Nabis. "Flower continues to be a top choice among consumers, and both Old Pal and Nabis understand that world-class customer service and reliability is crucial to ensuring those products stay available on retailer shelves."
As Old Pal continues to scale, Nabis will work in tandem with its growth by providing efficient logistical services, analytical business insights and streamlined ordering processing with retailers through the digital Marketplace. Nabis' end-to-end wholesale distribution model and tech-driven services enable Old Pal to effectively reach internal sales targets as well as meet market needs with quick and safe product care.
"By partnering with a distributor that deeply understands flower and places the utmost importance on freshness, we're ensuring that our customers will be enjoying a higher quality experience every time they pick up an Old Pal product," said Wilenkin.