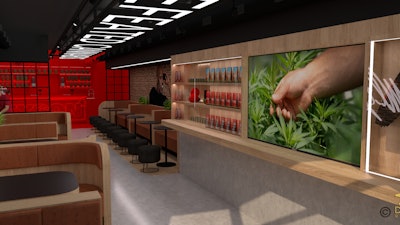 TYSON 2.0
TYSON 2.0, Mike Tyson's cannabis brand, announced the opening of a new branded coffeeshop in Amsterdam, Netherlands. Open to customers starting Friday, March 24, the coffeeshop will offer select TYSON 2.0 branded products, accessories among other goods and a lounge for consumers. The launch of the cafe and lounge space in Amsterdam marks the company's first entry into Europe, reinforcing the brand's rapid growth and success.
"Amsterdam is a city with a deeply rich culture that has transformed it into one of the world's premiere destinations with over 18 million tourists visiting every year. Coffeeshop TYSON 2.0 celebrates our journey and marks a significant milestone for the Company as we extend our international presence beyond North America into the burgeoning European market," said Adam Wilks, CEO of TYSON 2.0. "We look forward to introducing the TYSON 2.0 brand and lifestyle to Amsterdam and servicing our European fans with the industry-leading products we're known for."
The new 1,200 square-foot coffeeshop TYSON 2.0 will be one of the largest of its kind and centrally located on the Spuistraat 222, conveniently located near Soho House and the W Hotel and walking distance from Central Station. Dressed in the brand's signature color palette of red and black with exposed brick walls and light oak furnishings to create a cozy and inviting atmosphere, the coffeeshop will also include a lounge where guests can experience the TYSON 2.0 brand and product offerings. The shop will also feature a glass bar designed in collaboration with TYSON 2.0's partner Stündenglass and guests will be able to purchase Futurola, Gpen and Stündenglass merchandise on site.
"It is a dream come true to open our first coffeeshop in Amsterdam," said Mike Tyson, Co-Founder and Chief Brand Officer, TYSON 2.0. "The Coffeeshop TYSON 2.0 will immerse fans in a full on experience where they can enjoy my favorite TYSON 2.0 products the way I do. I've tried and tested all of them, and I can't wait to share some of my most beloved and undefeated goods with Europe."
Earlier this year, TYSON 2.0 announced its first international expansion into Canada in partnership with Purple Farm Genetics. In August 2022, the company also partnered with HEXO Corp to launch TYSON 2.0 products, now available for purchase across Canada.