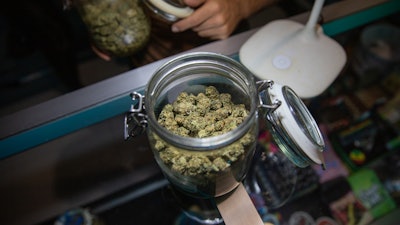 iStock
NEW YORK (AP) — New York officials will be able to issue licenses for recreational marijuana dispensaries in some parts of the state after an appeals court on Tuesday narrowed the scope of a temporary injunction that had halted them because of a legal challenge.
The ruling from the U.S. Second Circuit Court of Appeals allows the state to hand out licenses in Brooklyn, central New York, the mid-Hudson region and western New York, while upholding the block on them in the Finger Lakes region while a lawsuit continues.
A federal judge in Albany, New York, in November issued a temporary injunction against the licenses being handed out in those areas, after a lawsuit filed by Variscite NY One. The company, owned by a Michigan resident, is challenging how New York is issuing its licenses.
In designing the New York market, legislators intentionally looked for the first round of licenses to go to those who had pot convictions in their pasts or their relatives, in an attempt to make sure those directly impacted by drug law enforcement had access to the new opportunities.
Variscite's lawsuit, which is ongoing, says that is a violation of constitutional interstate commerce protections.
An email seeking comment was sent to one of the company's attorneys.
In a statement, New York Gov. Kathy Hochul said she was pleased by the decision and "for the first time, New Yorkers in nearly every region of the state will have access to safer, high-quality, adult-use cannabis products."
The issuing of licenses in nine other regions of the state, including the rest of New York City, were not impacted by the lawsuit or the injunction.