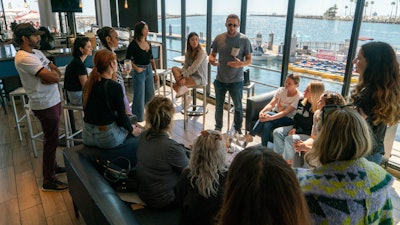 Petalfast, a route-through-market platform for the cannabis industry, yesterday announced a new partnership with HighTide, a cannabis-infused, ready-to-drink mocktail brand.
Founded in 2022, HighTide is a Massachusetts-based startup focused on social cannabis consumption. The company provides an assortment of cannabis-infused beverages made with premium ingredients, each available in a sleek container.
"Massachusetts, as well as much of the New England region, has developed a thriving and expansive cannabis market that continues to meet the needs of consumers," said Petalfast CEO Jason Vegotsky. "Within the growing THC-infused beverage market, HighTide takes a unique approach, not only offering consumers a tasty drink, but also encouraging them to be social in the moments that matter most. HighTide is a lifestyle brand in every sense of the phrase and we are excited to help them scale in Massachusetts."
Watch: Jason Vegotsky: Vertical Integration Is Why Cannabis Is Failing
HighTide offers three cannabis beverages in 12-ounce portions, including Diablo Spicy Margarita, Classic Margarita and Watermelon Margarita. The Diablo Spicy Margarita packs a punch of tropical flavors ranging from key lime and pineapple to jalapeno and agave with five milligrams of THC. Similarly, the Watermelon Margarita is composed of watermelon, key lime and agave with five milligrams of THC. HighTide's Classic Margarita combines key lime, agave and a hint of rosemary with five milligrams of THC.
HighTide is Petalfast's second brand partnership in Massachusetts. Previously, Petalfast established a brand partnership with Freshly Baked, a leading social equity cannabis microbusiness.
Additionally, Petalfast has aligned itself with Eagle Eyes Transport Solutions, Massachusetts' first licensed third-party cannabis transporter and logistics specialist for adult-use and medical cannabis – this partnership provides Petalfast's brand portfolio with statewide compliant transportation and safeguarded distribution services.