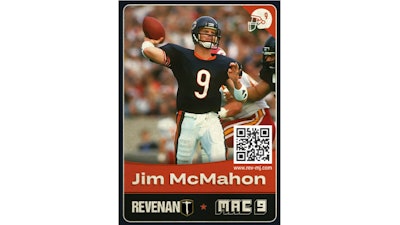 Revenant Holdings
Revenant Holdings, a multi-state marijuana brand, announces the launch of their MAC 9 brand during the Revenant Dispensary Launch Tour. This tour features a series of meet-and-greet events at select dispensaries from September 18th through September 20th, in partnership with Flora Arbor LLC, Revenant's exclusive manufacturer and distributor in Illinois.
Jim McMahon expressed his enthusiasm for the brand's Illinois launch, stating, "Revenant is more than just a brand; it's a lifeline. My NFL journey revealed the devastating toll opioids can take on both the body and the spirit. Cannabis, on the other hand, illuminated a different path, one of healing and hope. Having personally transitioned from 100 Percocets a month to using Mac 9 pre-rolls, I haven't touched an opioid since. Our mission with Revenant is to share this transformative path with the world, offering a natural alternative that prioritizes well-being because we've experienced the profound difference it can make."
Fans and cannabis enthusiasts can experience Revenant's Mac 9 flower, pre-rolls, and vape cartridges while meeting NFL legend Jim McMahon at select dispensaries during the Revenant Dispensary Launch Tour. The first 100 customers at each dispensary will receive a Mac-9 mini football, which they can have Jim sign.
Schedule for the Revenant Dispensary Launch Tour with Jim McMahon
Monday, September 18, 2023 o 10 am to 12 pm - EarthMed - 852 S Westgate St, Addison, IL 60101 o 2 pm – 4 pm – RISE-1325 Armour Blvd, Mundelein, IL 60060 o 6 pm to 8 pm – The Gas Station - 8131 S Cass Ave, Darien, IL 60561
Tuesday, September 19, 2023 o 6 pm – 8 pm – Green Light Dispensary - 3331 Belvidere Rd, Park City, IL 60085
Wednesday, September 20, 2023 o 2 pm to 4 pm – Phili Dispensary - 1300 Locke Dr, Bourbonnais, IL 60914