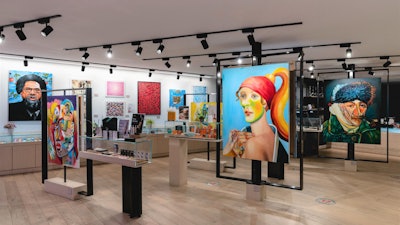 The Artist Tree
El Sobrante, CA – The Artist Tree will open its doors on Saturday, October 7th and become the first licensed, recreational cannabis dispensary in El Sobrante, California. The El Sobrante location will be the eighth venue in The Artist Tree chain and their first in Northern California.
More of an art gallery that sells cannabis, Artist Tree hopes to highlight the natural synergy between creativity and the plant, combining rotating displays of local art with high-end retail shopping.
More than twenty applicants sought a retail cannabis permit in the unincorporated Contra Costa County, but Artist Tree emerged to become the first dispensary to serve the community.
The space will include custom free standing art displays that will feature the work of local artists, like David Layton, an open floor plan, industrial detailing, custom cabinetry, hardwood floors and museum-style inlaid glass displays throughout the interior.
Created by founders Lauren Fontein, Aviv Halimi, Avi Kahan and Mitchell Kahan, Artist Tree retail locations include West Hollywood, Koreatown (Los Angeles), Beverly Hills, Oxnard, Riverside and Fresno. They also operate one of the few public consumption lounges in the country, The Studio Lounge, in West Hollywood.
With more than 600 items in stock, including vape cartridges, topicals, edibles, CBD wellness products, craft strains, premium concentrates and pre-rolls, Artist Tree's staff can assist cannabis novices and connoisseurs.
The Artist Tree's official opening day is October 7th. Later this month, the dispensary will host a grand opening party and campaign to greet the community and celebrate creativity and cannabis.
The Artist Tree retail and art space will be open daily from 8:00 am to 9:00 pm at 4100 San Pablo Dam Rd., El Sobrante, CA 94803.
The dispensary also plans to launch a delivery service shortly after opening.