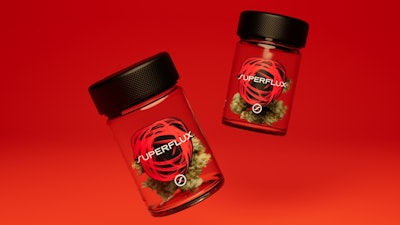 Superflux
Acreage announced that it will debut its Superflux craft cannabis brand in New Jersey on November 1, 2023.
The initial launch will introduce four limited-edition, small-batch flower strains:
Cherry Lemon Gusher – A hybrid strain bred and selected in-house, bringing together a special cherry-scented Lemon Cherry Gelato, Lemonade Gushers, and Purple Zkittlez, delivering a soft, floral, citrus-berry aroma, and harmonious blending of sweet, floral, and red fruit flavors, like a raspberry mimosa.

Chocolate Cherry OG – A rich, indica-dominant strain, melding some of the most sought-after OG Kush plants with both Black Cherry and Lemon Cherry Gelato, offering a chocolatey rich, grainy sweetness with a creamy gas aroma and hints of fruit.

Red Carpet Runtz – A unique-scented and potent varietal, this indica-dominant strain blends Gelato, Cookies, Afghani, and a sprinkle of OG, giving a savory herbal top note with an underlying sweet gas aroma.

Silly Rabbit– Unleashing a complex sweet-meets-gas aroma with distinct notes of sweet cereal milk and light fruity qualities, this indica-dominant strain blends the "Guava" cut of Stardawg, Gelato, Zkittles, and Wedding Cake for some serious genetic pedigree.
Each strain will be exclusively available for purchase at The Botanist locations in Egg Harbor Township and Williamstown, New Jersey.