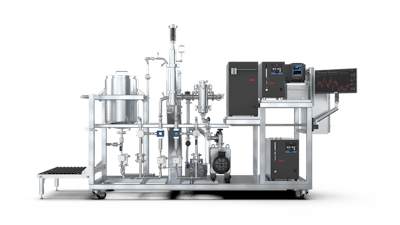 Lab Society
Agrify's extraction division today unveiled a new short path, thin film distillation system, the CannaBeast 13 (view photos in gallery).
The system offers cannabis operators flexibility, ease of use, dependability, consistency and quality when extracting cannabis oil.
Watch: David Kessler: A New Approach to Cultivation
Compared to batch systems, thin film units expand processing speed and capabilities with a smaller footprint since they run continuously and distill thermally-sensitive compounds more efficiently.
Constructed using the synthetic fluoropolymer PTFE, rollers on the CannaBeast 13 spread a smooth and even film across the inner surface area for ideal heat transfer, evaporation and condensation rates.
The dual-pump manifold between the feed supply and still body helps maintain a consistent flow rate, which allows for continuous feeding and offers the flexibility to be fed a range of compounds, ideal for extracting diverse strains of cannabis.
Additional features include:
An 8-gallon feed tank.
EliteLab software and a touchscreen HMI that helps users collect and leverage data, change parameters on the fly and save custom presets.
Evaporator efficiency 2x higher than comparatively sized units.
The ability to reduce manpower while increasing production to 35-45 kg of distillate per eight-hour shift.
A short path from where the distilled compound is evaporated to where it recondenses in the form of a distillate, which reduces the pressure drop between the areas of evaporation and condensation, allowing thermally-sensitive compounds to be distilled effectively and efficiently.
Low residency time inside the system enables compounds to be distilled and separated quickly without degrading thermally-sensitive compounds.
Pharma-grade, U.S.-made 316 stainless steel for corrosion resistance, durability and temperature stability.
A compound pressure gauge for system pressure and valve control that allows users to dial in specific combinations of temperature and pressure.
A self-priming and standby valve system that helps diagnose pumping problems and minimize losses.
A three-way valve that keeps oil flowing even while switching collection vessels.
A common skid frame, which only requires one electrical connection and no modifications, so it can be deployed and set up quickly.
Jacketed stainless-steel piping is easy to clean.
Rolled film, which extends the lifespan for the wiper module by minimizing the forced contact with the outer surface of the evaporator body.
High-efficiency cold trap, with an option for dual cold traps to get lower temperatures, that captures vapors detrimental to equipment, helps maintain vacuum levels and extends vacuum pump life.
GMP-forward design, ready for compliance.
Cleanout ports for easy maintenance and clean-in-place.
Manual or HMI-based motor speed control for continuous operation and safety.
The CannaBeast 13 is now available from Lab Society.
Lab Society, which Agrify acquired in February 2022, partnered with InCon Process Systems to bring the CannaBeast 13 to market.
CannaBeast is a registered trademark of InCon Process Systems LLC (IPS).
For more information, visit https://labsociety.com/lab-equipment/industrial-thin-film-distillation/.