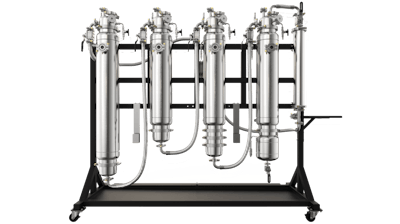 Agrify
Agrify's extraction division has expanded its portfolio of processing solutions with the PX5, a scalable passive hydrocarbon extractor.
The PX5's passive recovery design offers immediate economic benefits to cannabis operators of any size. The optimized extraction path reduces batch times driving increased daily production up to 33%.
By eliminating the need for a dedicated pump, the PX5 saves up to 40% annually in energy costs over comparable traditional systems while simultaneously eliminating the maintenance and replacement expense normally associated with system pumps.
Designed for rapid material changeover, the PX5 enables operators to increase hourly extract production by 200% and with specialized training available from Agrify Extraction, operators can realize up to a 300% increase.
Catering to the contemporary needs of cannabis operators, the PX5 offers passive recovery with fast recovery times. The system offers integrated CRC refinement which is highly conducive to extracting high-terpene, full-spectrum live resin, by further refining low-quality biomass into a valuable end product. Additional features include:
Meets 3-A sanitary standards, Current Good Manufacturing Practices and national and local fire code.
Certified to Class I, Division 1, Pressure Safety Inspection (PSI) and is Engineer Peer Reviewed by PSI ensuring safety and compliance in all 50 states.
The ability to be paired with Agrify Extraction modular offerings for speed to market.
A high-efficiency design lowering capital expenditures and operating expenses while improving throughput.
Liquid jacketed columns enabling low temperature operation for improved product quality.
Included material socks for faster material changeover between run cycles increasing daily output.
The integrated PX5 molecular sieve column for inline solvent desiccation removes moisture from solvent preserving the solvent's effectiveness.
Dedicated sight glasses in all columns makes process inspection fast and intuitive.
A maintenance-forward design with universal parts to minimize the expense of stocking spares.
Inline CRC provides flexibility in purifying extract through customizable filtration media remediating a wide variety of different contaminants in real time.
Two-bolt compliant tri-clamp service connections.
EXERGY tube-in-tube heat exchanger enabling rapid solvent recovery.
Canadian CRN certification in process and expected by the end of the third quarter this year.
The PX5 is now available as part of a customizable primary extraction package including both indoor and outdoor temperature control options.
For more information, visit https://precisionextraction.com/contact-us/.