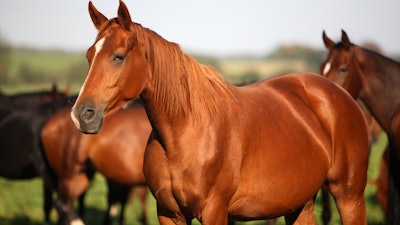 iStock
LOS ANGELES -- Veterinarian-founded cannabis company VETCBD Hemp has announced the launch of its first equine-specific product, a broad spectrum CBD tincture derived from American-grown hemp. The 3000mg tincture is specifically developed for horses utilizing triple-tested premium American-grown hemp and organic extra-virgin olive oil to support brain function, joint mobility and calmness.
"Our trials have shown that horses can benefit from CBD the same way we've seen dogs and cats benefit, especially for support with environmental stress and joint mobility," said VETCBD founder and CEO Dr. Tim Shu. "Over the last six years we've applied our veterinary expertise in cannabis and hemp to improve the lives of cats and dogs throughout the country, and we're looking forward to doing the same for horses."
Like all VETCBD products, the equine tincture is tested by accredited third-party labs to ensure safety and quality. Using broad-spectrum hemp extract that contains a combination of synergetic cannabinoids, providing the benefits of what's known as the "entourage effect," the tincture can complement the horse's overall wellness routine.
The product is available for sale on VETCBDHemp.com nationwide, except to those residing in Idaho, South Dakota, Nebraska and California. Current California law dictates that horses are classified as "livestock," under the California Department of Food and Agriculture's (CDFA) purview. Consequently, as cannabinoids are not approved for use in livestock by the FDA, the CDFA does not permit the sale of cannabinoid products for horses in California.
To learn more about VETCBD's hemp tincture for equines, please visit https://vetcbdhemp.com/collections/all-products/products/vetcbd-hemp-tincture-equines.