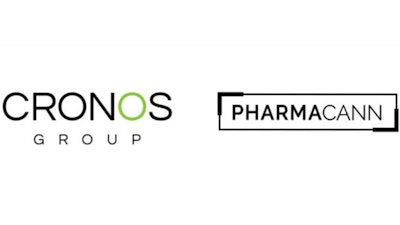 Cronos Group, PharmaCann/GlobeNewswire
TORONTO and CHICAGO -- Cronos Group Inc. and PharmaCann Inc., one of the largest vertically integrated cannabis companies in the U.S., announced they have entered into an agreement under which a wholly owned subsidiary of Cronos Group has purchased an option to acquire an approximately 10.5% ownership stake in PharmaCann on a fully-diluted basis. The option exercise will be based upon various factors, including the status of U.S. federal cannabis legalization, as well as regulatory approvals, including in the states where PharmaCann operates that may be required upon exercise.
PharmaCann has a broad geographic footprint in the U.S. and has built an efficient, effective and scalable operating model, including six production facilities and 23 dispensaries operating under the Verilife brand across six limited license states: New York, Illinois, Ohio, Maryland, Pennsylvania and Massachusetts. PharmaCann continues to invest in its manufacturing infrastructure and brand development to capitalize on the significant consumer retail and business-to-business wholesale opportunities.
"Our U.S. growth strategy focuses on delivering long term shareholder value by assembling a best-in-class brand and intellectual property portfolio and positioning to deploy our products in the U.S. market through investments and opportunities with U.S. leaders who share our vision and commitment to responsibly distributing disruptive cannabinoid products that improve people's lives," said Kurt Schmidt, president and chief executive officer of Cronos Group. "We were attracted to PharmaCann as an investment because of their disciplined capital allocation, strong track-record and compelling licensed manufacturing and retail footprint. Further, we are excited to partner with PharmaCann because of our shared commitment to elevating product quality and consistency through science and best in class operations and manufacturing."
"We are pleased to announce our strategic alliance with Cronos Group," said Brett Novey, chief executive officer of PharmaCann. "This investment validates our position as a leading vertically integrated U.S. cannabis company and highlights our ability to continue to expand and enhance our strong asset base. We are excited to work with Cronos Group as we advance PharmaCann's mission to improve people's lives through cannabis."
Transaction terms
Under the terms of the Transaction, total consideration paid by Cronos Group for the Option was approximately $110.4 million, which was deposited by Cronos Group with a third-party paying agent to be distributed directly to PharmaCann shareholders. The Option is subject to certain anti-dilution and other adjustments.
At Cronos Group's election and following its exercise of the Option, Cronos Group and PharmaCann will enter into commercial agreements that would permit each party to offer its products through either party's distribution channels. In addition, at Cronos Group's election and following its exercise of the Option, Cronos Group and PharmaCann will enter into an investor rights agreement that would provide Cronos Group with certain governance rights, such as a board seat or board observer subject to certain conditions, and a registration rights agreement that would provide Cronos Group with customary registration rights of PharmaCann common stock.
Michael Gorenstein, executive chairman of Cronos Group, and Jason Adler, a director of Cronos Group, each hold an indirect interest in PharmaCann by way of their interest in a fund affiliated with Gotham Green Partners, which is a stockholder of PharmaCann. A special committee composed entirely of independent directors of Cronos Group was formed to evaluate and make recommendations to the Board of Directors of Cronos Group with respect to the Transaction and other opportunities in the U.S.
The transaction has been approved by the PharmaCann board of directors and the requisite PharmaCann shareholders and approved by the Cronos Group board of directors (other than Mr. Gorenstein and Mr. Adler) following the unanimous recommendation of the special committee of independent directors.
About Cronos Group
Cronos Group is an innovative global cannabinoid company with international production and distribution across five continents. Cronos Group is committed to building disruptive intellectual property by advancing cannabis research, technology and product development. With a passion to responsibly elevate the consumer experience, Cronos Group is building an iconic brand portfolio. Cronos Group's portfolio includes PEACE NATURALS, a global wellness platform, two adult-use brands, COVE and Spinach, and three U.S. hemp-derived CBD brands, Lord Jones, Happy Dance and PEACE+. For more information about Cronos Group and its brands, please visit thecronosgroup.com.
About PharmaCann
PharmaCann is one of the nation's largest privately held and vertically integrated cannabis companies, providing safe, reliable, and high-quality cannabis products to people in both the medical and adult-use markets. The PharmaCann geographic footprint includes PharmaCann dispensaries and cultivation and processing operations in six states. For more information about PharmaCann, please visit PharmaCann.com.