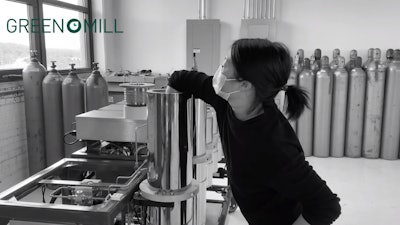 Green Mill Supercritical
In a year that saw incredible innovations in CO2 extraction technologies, the extraction machine manufacturing industry also witnessed in 2021 a shameful number of companies obfuscating, exaggerating or flat-out imagining product claims with no data or third-party verification to back them up.
Meanwhile, a growing sophistication among cannabis consumers continued to drive interest in expensive, premium "whole plant" products that focus as much on terpenes and minor cannabinoids as on THC content. In addition, actual innovations that are now poised to transform the industry gained validation, setting the stage for a reckoning among machine manufacturers to meet product manufacturer's production and economic needs.
"To use a sports analogy, 2021 felt like a 'rebuilding year' for the extraction industry in a lot of ways," said Wes Reynolds, CEO of Green Mill Supercritical. "Processors and manufacturers were figuring out how to scale their operations economically while still creating superior products, and the increasing demand for high-quality, complex products continued to add pressure to produce. The coming 12 months should see a shake out of the fakers from the makers."
False claims reckoning awaits
Hearing some folks in the CO2 extraction machine business talk today feels a little bit like listening to a politician's stump speech. There are a lot of broad promises made in dramatic fashion, with very little to nothing backing them up.
As competition heated up to help processors and product manufacturers meet increasing demand for premium cannabis products, some extraction machine companies leveraged the lack of customer sophistication to pump up claims of innovation in order to help drive sales. The result has been the creation of a true "buyer beware" environment, where customers should use skepticism to their advantage and press manufacturers for third-party validation and proof of claims.
The problem is: It is easy to hype progress in a category where a large portion of those making purchasing decisions lacks the technical background to question assertions. But the entire industry is tarnished when companies make dubious claims. In 2022, those companies will be forced to "put up or shut up" as innovations reach the market and customers realize the quality and cost-efficiency benefits of inline winterization and other new technologies.
"We entered a new era in the extraction machine industry this year, and I think that is one reason so many companies felt compelled to misrepresent their capabilities," Reynolds said. "Plain and simple, they were caught off guard. Now they are using these false claims as a stalling tactic while they attempt to catch up. But when these claims eventually fail to produce, those customers that bought into the hype will be the ones to suffer, as will their customers. Those that do the research and ask the right questions will be rewarded with machines that actually perform as advertised--and they will win in the end."
Demand for 'whole plant' oils and products: Full steam ahead
Most everyone agrees that the increased consumer interest in a "whole plant" experience, where the terpene profile and minor cannabinoids present in any particular strain are preserved intact, will continue to grow. These connoisseur consumers are sophisticated enough to discern terpene and cannabinoid subtleties and are increasingly willing to pay a premium price. In addition, a growing number of "luxury" consumers will flock to these products to complement special events or serve as the cannabis equivalent of the "status" product.
The expanding demand for these products, combined with the pressure for manufacturers to scale operations as markets grow, will drive interest in extraction innovations that help create higher-quality oils while reducing costs. This trend should continue throughout 2022 as product manufacturers re-shape their operations.
"There is no doubt that the high-end, premium consumer market is only just beginning to take hold," Reynolds said. "Whether a true connoisseur or a status-seeking 'designer' shopper, the consumers for these products possess a knowledge base and cannabis palate that requires stringent attention to quality. Possessing the right capabilities to create these high-end products that can pass the muster of this discerning market will be a key differentiator for product manufacturers."
Ethanol use becomes obsolete
The promise of inline winterization was realized in 2021 with the introduction of Green Mill Supercritical's Real-Time Winterization (RTW) technology. As other machine manufacturers jump on the bandwagon to try to tout their version of inline winterization (real or imagined), one key reality has come into clear focus: The days of ethanol use in CO2 extraction are numbered and coming to a close quickly.
The cost efficiencies of ethanol-free extraction cannot be overstated. The ability to reduce the time, expense and environmental impact of CO2 extraction comes at precisely the right time. The fact that inline winterization, when implemented correctly, can also dramatically increase the quality of products is a game changer. In the age of rapid industry growth coupled with growing consumer knowledge and sophistication, this technological breakthrough will transform the space.
By the end of 2022, ethanol-free CO2 extraction will become the standard for all others to meet.
"Prior to our announcement of RTW, practically no one in the industry was discussing the possibility of completely eliminating ethanol from the process, and very few were even discussing inline winterization," Reynolds said. "By bringing this technology to market and shining a light on the possibilities of CO2 extraction, we are hoping to create a new era of growth and innovation for the cannabis industry specifically and for the extraction industry in general. Making ethanol obsolete in the winterization process is just the first step."