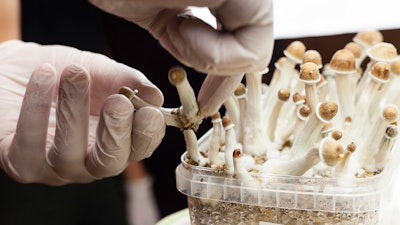 iStock
Psyence Group has entered into a partnership with Eden Labs, a product development and extraction technology company that has developed intellectual property and methodologies around the extraction of psilocybin-yielding mushrooms.
The partnership features a global IP Licensing agreement for the commercialization by Psyence of extraction technology and formulation IP developed by Eden Labs for the production of a water soluble, doseable, stabilized psilocybin powder naturally derived from the fruiting bodies of psilocybin-yielding mushrooms cultivated and processed at Psyence's federally licensed certified facility in Southern Africa.
Psyence is also appointing AC Braddock, CEO of Eden Labs, to its Scientific Advisory Board to use her skill sets in methodology and product development. Braddock has earned global recognition for her leadership in strategic industry building, political engagement, board leadership, organizational health, extraction technology, natural products formulations, product placement, branding from problem solving and as an inspirational speaker.
The partnership will be facilitated by South African entrepreneur Cody Futeran who will play an active role in the business development arm of the venture.
"Psyence is extremely excited to be entering into a relationship with Eden Labs who, for 27 years, has advanced product development through green extraction technology in the health and wellness sectors. Our ongoing collaboration in the production of plant medicines for clinical protocols will significantly expand our ability to bring valuable medical resources to the application of psychedelic research worldwide," says Dr. Neil Maresky, Psyence Chief Executive Officer.
"We could not be more pleased with this partnership and its potential in providing a plethora of stable and titratable medicines in a wide range of applications. It is clear that the health and wellness sectors are clamoring for naturally derived medicinal products and we are thrilled to be collaborating with a company that shares our vision in bringing safe, highly effective, plant-based medicines to the forefront of medical science and available to patients across the globe," said Braddock.