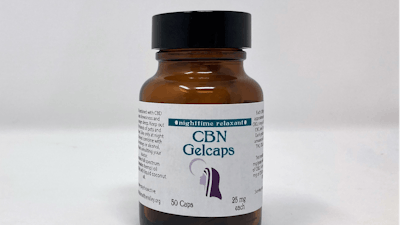 Sisters of the Valley
The Sisters have begun selling a new gelcap, developed in the lab in Colorado, that is specifically designed to induce sleep. Although there is no evidence that CBN alone, isolated, induces sleep, there is evidence that in combination with CBD and THC, it becomes an agent of friendly sleep.
A normal profile of CBN gelcaps or drops would be outweighed by CBD. That is the nature of working with natural plant medicine. The CBD content is higher than the CBN content and to be effective, there needs to be a trace of THC.
When listing ingredients on aspirin, on food, on vitamins, it is customary to list them from most present to least present compounds, from the highest amount by weight to the lowest amount by weight. There are no country-wide standards when it comes to reporting cannabis compounds.
"If our industry followed other customary practices, these would be called CBD + CBN capsules, acknowledging which ingredient is first," said Sister Sophia. "Alas, we don't get to name things. The industry already is calling them CBN gelcaps to differentiate them from standard CBD gelcaps. It's kind of like our mushroom coffee. There is no coffee in our mushroom coffee, but we don't get to name things. And we certainly wouldn't put magic mushrooms in a category opposite functional mushrooms, when science has already proven how functional psilicybin mushrooms are in regard to neuro-regeneration."