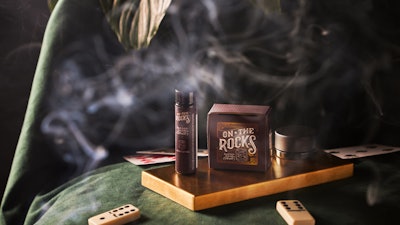 On the Rocks
Verano today announced the launch of On The Rocks, a line of small-batch solventless extracts crafted to express the purest form and flavor of the cannabis plant. On The Rocks products first launched in Pennsylvania earlier this month, and are now hitting Zen Leaf retail shelves in Illinois. In the second half of 2023, the company expects to launch On The Rocks in three additional core markets: Arizona, Florida and New Jersey.
Defined by solventless extraction methods dating back thousands of years, On The Rocks extracts are developed using fresh-frozen flower and dry-sift methods to collect the cannabinoid- and terpene-rich trichomes.
"Introducing On The Rocks solventless extracts to our expanding brand portfolio recognizes and responds to cannabis connoisseurs' appetite for refined experiences, flavors and formats," said George Archos, Verano Founder and Chief Executive Officer. "Solventless extraction methods have been leveraged for centuries, and we're excited to harness that tradition by offering On The Rocks hand-crafted extracts across five of our core markets to satisfy consumers' increasing demand in the category."
The On The Rocks product portfolio includes:
Live Rosin Cartridge: Dab on the go with On The Rocks Live Rosin vape cartridges. Freshly harvested flower is frozen to retain maximum cannabinoids and terpenes, extracted by collecting potent trichomes using an ice water bath, pressure and heat.
Live Rosin Gummies: Pure plant power meets juicy, palate-pleasing flavor. Infused with Live Rosin for full-spectrum benefits, On The Rocks gummies are strain-specific and crafted with solventless ice-water extraction.
Live Rosin Badder: It starts with Live Rosin that is extracted by isolating terpene- and cannabinoid-rich trichomes through an ice water bath and pressed to produce the desired oil. The oil is then whipped to create a smooth, homogenous extract with an even distribution of cannabinoids and terpenes to maximize flavor and optimize consistency.
Live Rosin Coin: Live Rosin coins are terpene-packed for a full spectrum, true-to-flower dabbing experience. The potent solventless extract is made from fresh-frozen flower and refined in an ice water bath to collect and isolate cannabis trichomes. The hash is dried, then heated and pressed to its final form: a coin-shaped extract.
Light Press Hash: Light Press Hash is a nod to the original cannabis concentrate. Trichomes are collected from dried and cured flower, isolated by sifting through mesh screens to create dry sift kief. This kief is then pressed using low heat and soft pressure to form blocks that range from light sand to sandy-green in hue.
Full Melt Hash: Created by isolating cannabis trichomes through an ice water bath, the desired cannabinoids and terpenes are expressed by applying heat and pressure. The result is a top-quality solventless concentrate that fully melts, leaving no residue.
Temple Balls: Temple Balls are created by hand-rolling, an essential piece as the outer shell protects the terpenes and cannabinoids, preserving its true-to-flower flavor and aroma.
From 2019 to 2022, the total United States cannabis concentrates category grew 31% and is projected to grow an additional 11% by 20271. On The Rocks joins the Company's expansive brand portfolio that includes its namesake Verano™ Reserve and Essence flower, Swift Lift mini pre-rolled joints, extracts and vaporizers; MÜV™ flower, pre-rolled joints, vaporizers, concentrates, topicals, oral sprays, EnCaps™ capsules, tinctures, transdermal patches and gels; Savvy™ flower and vaporizers, larger-format cannabis products catering to more value-driven patients and consumers; BITS™ low-dose, high-function edibles; Encore™ Edibles, hand-crafted cannabis gummies, hard candies, mints, caramels and chocolates; and Avexia™ topicals, tablets, tinctures and RSO products that are made to effortlessly enhance any self-care routine.