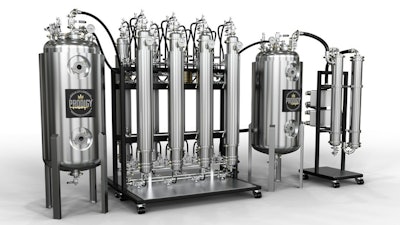 Prodigy Processing Solutions
Prodigy Processing Solutions, a provider of cannabis and hemp extraction equipment, today unveiled its flagship product, the ProX.
The ProX is designed to allow for faster processing speeds and user-friendly operation, and incorporates several features including:
Quality and safety: Constructed using only 316L pharmaceutical-grade stainless steel, ProX ensures the highest operator and consumer safety standards and is made in the USA.
Unprecedented cold operation: The ProX operates at recommended temperatures of -100 degrees Fahrenheit and is rated up to -300 degrees Fahrenheit, eliminating the need for winterization and streamlining the extraction process.
Versatile operation: Whether operated passively or actively, the ProX integrates seamlessly with Prodigy's proprietary GC 10000 reciprocating gas compressor, ensuring superior operational flexibility to cater to diverse processing demands.
Peak throughput: With the ability to process over 100 lbs of input material per hour, the ProX redefines industry standards as a front-runner in efficiency and throughput.
User-centric design: Recognizing the value of an intuitive user experience, the ProX boasts a remarkably short learning curve, allowing ease of operation and reduced downtime.
Advanced in-line CRC: The ProX integrates chromatography into its workflow, further enhancing the purity and quality of the extracts.
Certified and trusted: The ProX is certified for use across all 50 U.S. states and is built Canadian CRN and EU-ready.
Next-generation technology: Representing the next evolution in cannabis extraction, the ProX provides unprecedented performance by exceeding expectations, dominating competitive products and delivering maximum ROI for its customers.
"With the ProX, the Prodigy team has gone above and beyond traditional design paradigms," said Marc Beginin, CEO of Prodigy Processing Solutions. "The ProX is a product that resonates with the needs and ambitions of the modern extraction professional. We are not just launching a new product but forging a new path for the entire cannabis industry with a game-changing innovation."