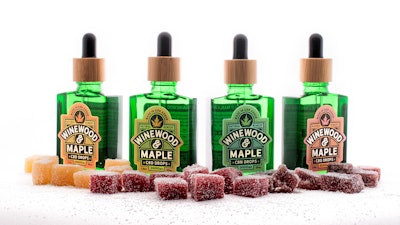 Winewood Organics
Winewood Organics launched Winewood & Maple, a house-made line of Cannabidiol (CBD) products derived from Michigan-grown hemp. Products with the Winewood & Maple label, including CBD Drops and CBD Gummies, contain no detectable levels of THC (0 to .3%) and are legal in all 50 states.
"We believe in the therapeutic effects that CBD can bring people," said Winewood Founder Eric Parkhurst. "We vouch for CBD, CBN, CBG and other hemp-derived cannabinoids independently as natural remedies, and also in combination with THC. That's why we are now making our own CBD products."
The Winewood & Maple label will start with naturally flavored vegan CBD Gummies and flavorless CBD Drops (similar to tinctures but made with organic MCT Oil instead of alcohol) and later expand to other product lines. All CBD used in Winewood & Maple products is grown at a local Michigan hemp farm.
As for the new brand, there are practical reasons for the spin-off beyond distinguishing what contains THC and what does not. Winewood Organics products can only be sold on-site at Winewood's Ann Arbor Dispensary, but Winewood & Maple CBD products can also be sold online and at any retail location.