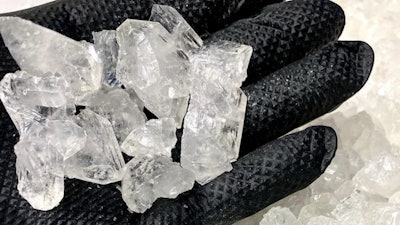 CryoMass
CryoMass Technologies, a provider of cryogenic botanical refinement systems, has signed a license agreement with a California cannabinoid ingredient producer, RubberRock, co-owned by famed extractor Brad Robertson, co-founder of Guild Extracts.
Led by Chief Science Officer Robertson and co-founder Kevin Ahaesy, RubberRock aims to become a leader in the production and wholesale of cannabis ingredients.
After demonstrating the trichome separation capabilities of the CryoSift Separator, CryoMass most important objective was finding the most efficient and scalable way to utilize CryoSift for large scale cannabinoid production. This meant finding partners with deep extraction expertise open to new methods beyond existing extraction processes. Current extraction techniques utilize full biomass, not refined and concentrated input material like CryoSift.
Robertson's approach mirrors the way CryoMass developed its trichome separation process due to the creative thinking of Matt Armstrong, CryoMass Senior Director of Innovation, and willingness to explore new methods.
Under the agreement terms, CryoMass receives a territory licensing fee and ongoing royalties. The royalties include 25% of gross revenue from any cannabinoid extracts, ingredients or formulations utilizing CryoSift. Minimum quarterly royalties, starting at $100,000 and reaching $750,000 by Q4 2024, guarantee CryoMass at least $3 million in annual royalties. This recurring revenue stream positions CryoMass to potentially reach profitability from a single system.
Commercialization Update
With strong demand and solid pipeline, CryoMass continues selectively vetting partners to deploy its technology across key markets, while upholding standards for controlled growth. The company has fielded over 200 inquiries from 20+ countries and 10+ states, engaging with 70+ prospects and is actively involved in conversations with 25+ of them. Near-term plans target two additional unit deployments in strategic regions.