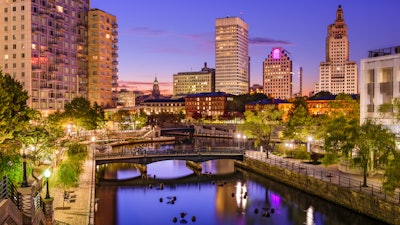 iStock
Rhode Island has become the 19th U.S. state to legalize recreational adult-use cannabis after the state's legislature and Governor Dan McKee signed off on it.
The Rhode Island Cannabis Act also includes automatic expungement of prior civil or criminal marijuana possession charges, a key provision in the Governor's original cannabis proposal to the General Assembly.
Under the new law, possession and home-growing of cannabis is now legal for adults age 21 and older, and in-store sales may begin as soon as December 1. The law also establishes a framework for common-sense adult use cannabis regulation with a strong emphasis on public health and public safety.
"This bill successfully incorporates our priorities of making sure cannabis legalization is equitable, controlled, and safe," said McKee in a statement. "In addition, it creates a process for the automatic expungement of past cannabis convictions. My Administration's original legalization plan also included such a provision and I am thrilled that the Assembly recognized the importance of this particular issue. The end result is a win for our state both socially and economically."
The legislation calls for a 20% tax rate, which covers the 7% sales tax, a new 10% cannabis tax, and a 3% tax by the municipality where the marijuana is sold.
According to the Governor's office, the legislation also makes numerous investments in the creation of an equitable, accessible cannabis retail market through the set-aside of certain application fee revenues and the reservation of a portion of new licenses for social equity applicants and worker-owned cooperatives.
"The reality is that prohibition does not stop cannabis use. Since Rhode Islanders can already access cannabis just across the state border or on the illicit market, we experience all the challenges without any of the safeguards or resources that our neighboring states have. With this bill, we are ending prohibition in a way that is safe, keeps revenue in Rhode Island, and is as fair and equitable as we can possibly make it," said bill sponsor Sen. Joshua Miller, chairman of the Senate Health and Human Services Committee.
Rhode Island and 18 others states, along with the District of Columbia, have legalized recreational marijuana. Thirty-seven states, including New Jersey, have legalized medical marijuana.