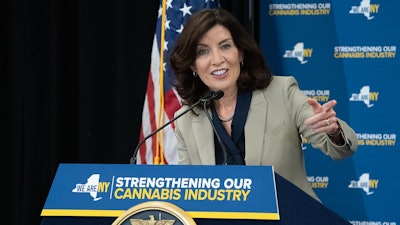 New York Governor's Office
Governor Kathy Hochul today announced the results of initial enforcement actions against unlicensed cannabis businesses. The efforts in these first two weeks have been led by New York State's Office of Cannabis Management and Department of Taxation and Finance, which have been authorized under a new law signed by the Governor in May as part of the State's Fiscal Year 2024 Budget.
"Under new powers that I fought for in this year's State budget, we can now conduct enforcement against businesses illegally selling cannabis, and I'm proud to report that in just the first three weeks of our efforts, we've seized nearly $11 million worth of illicit products off the streets," Governor Hochul said. "These unlicensed businesses violate our laws, put public health at risk, and undermine the legal cannabis market, and with the powerful new tools in our tool belt we're sending a clear and strong message: if you sell illegal cannabis in New York, you will be caught and you will be stopped."
Since June 7, the New York State Office of Cannabis Management (OCM) and the New York State Department of Taxation and Finance (DTF) have jointly conducted inspections at 33 storefront businesses in New York City, Ithaca, and Binghamton not licensed to sell cannabis. The two agencies have issued Notices of Violation to 31 of these businesses, from which they have seized and catalogued a minimum of 1000 pounds of illicit cannabis with an estimated value of nearly $11 million, and with more still to be tabulated. Enforcement will be continuing weekly throughout the state, with OCM actively recruiting additional officers with the goal of ending the illicit sale of cannabis.
The new enforcement legislation adopted as part of the Budget has authorized OCM to assess civil penalties against unlicensed cannabis businesses, with fines starting at $10,000 per day, and rising up to $20,000 per day for the most egregious conduct. The new law has also authorized the agency to seek a State court order to ultimately padlock businesses found to be in repeated violation of the law, among other penalties. In addition, the law makes it a crime to sell cannabis and cannabis products without a license
In addition to the powers granted to OCM, the new enforcement law also empowers DTF to conduct regulatory inspections of businesses selling cannabis to determine if appropriate taxes have been paid and to levy civil penalties in cases where they have not. The legislation also establishes a new tax fraud crime for businesses that willfully fail to collect or remit required cannabis taxes or knowingly possess for sale any cannabis on which tax was required to be paid but was not.
By taking decisive action against unlicensed cannabis businesses, New York State is making a significant stride toward cracking down on unlawful cannabis operations that jeopardize public safety, consumer well-being, and the integrity of New York State's legal cannabis market. To aid in these continuing actions, the FY 2024 Budget also provides $5M for an additional 37 OCM staff to carry out enforcement.
Governor Hochul also appointed Hope Knight, President, CEO and Commissioner of Empire State Development, to the Cannabis Control Board (CCB). Commissioner Knight will be seated immediately and will serve at next month's CCB meeting.