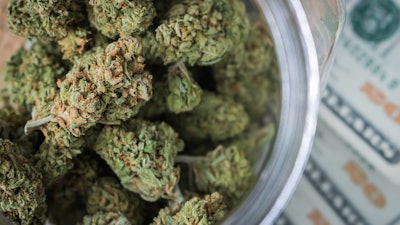 iStock
Governor Kathy Hochul announced the largest expansion of New York State's legal cannabis market to date, with hundreds of licenses being made available to individuals and businesses interested in legally growing, processing, distributing, and selling cannabis.
The application period is open as of October 4, and will remain so for two months. OCM and the CCB will accept applications for review and will begin awarding licenses for cultivators, processors, distributors, microbusinesses, and retail dispensaries in early 2024. During this application window, currently operational Adult-Use Conditional Cultivators and Conditional Processors will also be able to apply to transition to full, non-conditional licenses. Entrepreneurs seeking to apply for licenses will be able to file their applications through the New York Business Express (NYBE) platform, accessible here.
The regulations governing all categories of licenses were approved by the CCB on September 12. These regulations create a framework for an equitable and sustainable cannabis industry grounded in public health best practices, including keeping cannabis products out of the hands of youth, establishing product quality and safety guidelines, outlining employee training standards, and defining business security requirements to protect public safety. These regulations also incentivize sustainable cannabis operations by prioritizing energy and resource efficiency and protecting against wasteful business practices. Critically, these regulations maintain the equity goals laid out in New York's Cannabis Law and the Marihuana Regulation & Taxation Act (MRTA). The finalized regulations are the result of significant public feedback, with OCM and the CCB receiving more than 4,000 comments between December 2022 and July 2023.
The CCB anticipates issuing a significant amount of retail licenses. It's adopting an approach that has the ultimate goal to ensure that New Yorkers have access to as many locations as possible to legally buy cannabis as quickly as possible. Owing to the constantly shifting nature of the retail environment and because the process of opening a storefront is both resource-intensive and lengthy, the number of retail licenses initially issued will likely be larger than the number of stores that are anticipated to open in this first phase. This approach is designed to guard against market volatility, help small businesses enter the market, and expand consumer access.
Hochul also announced the results of continued aggressive enforcement against the illegal sale of cannabis across the state undertaken by the Office of Cannabis Management and the Department of Taxation and Finance, which to date has yielded the seizure of more than 8,500 pounds of illicit product with an estimated street value of more than $42 million.
She also announced new partnerships with localities that will enable them to pursue padlocking orders against businesses illegally selling cannabis from State courts, and a new multi-agency initiative to target illegal operators for labor violations, thus significantly increasing fines and penalties that businesses may face. New York's legal cannabis market is now poised to be one of the largest in the world; one that will ultimately generate hundreds of millions in revenue annually, as well as create or sustain thousands of jobs across the state, all while prioritizing equity, promoting small business growth, ensuring product quality, and maintaining consumer safety.