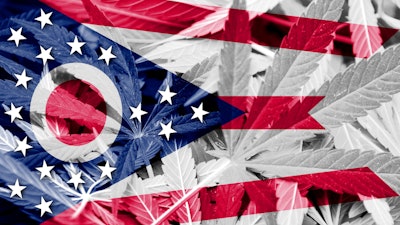 iStock
Ohioans emphatically voted to legalize the possession and sale of cannabis in the state. With more than 95% of votes counted, 57% voted 'yes' on Issue 2, which will authorize the sale of marijuana to individuals 21 and older.
Ohio is set to become the 24th state to legalize cannabis for adult use and the 14th to do so via ballot measure. According to the Marijuana Policy Project, the majority of Americans (52.6%) now live in a state where cannabis is legal for adults.
Once the measure is certified on December 7, 2023, adults 21 and older can possess up to 2.5 ounces of cannabis, including up to 15 grams of concentrate, and grow up to six plants. Legal sales are anticipated to begin in 2024.
"This is a great day for Ohio, which now joins the growing number of conservative-leaning states that have ended the injustice of cannabis prohibition," said Matthew Schweich, executive director of the Marijuana Policy Project. "There should no longer be any doubt that cannabis legalization can win in a conservative state."
Jack Grover, an Ohio native and the founder and CEO of cannabis industry packaging company, Grove Bags, said, "Passing adult use legalization means the normalization of common sense policy in Ohio, the end of decades of racially-motivated cannabis wars, a massive economic boost for the state in millions of dollars of direct tax funds for schools, roads and other public benefits, as well as billions in economic activity. Lastly, for the existing cannabis businesses and the ones yet to come, this finally creates a fair and ethical playing ground in which entrepreneurs and companies across the value and supply chain can flourish."
Cannabis market intelligence firm BDSA today announced that Ohio's medical market will likely reach $520 million in sales by the end of this year.
"This new law is a game-changer. It's going to open up access to cannabis, which can be life-changing for a lot of people. Plus, the tax revenue and policy changes that will come from this will benefit the community in more ways than one," said Jessica Hanson, CEO of Symple Seeds. "It's not just good for individuals but for the state as a whole, and let's not forget the fantastic economic opportunities it will create for local businesses in the Buckeye State."
According to Hanson, Symple Seeds is set to support Ohio's budding cannabis industry. Now that home cultivation is legal, and medical cannabis cultivators are expanding, the company anticipates supplying cannabis seeds to home growers and professionals alike.
BDSA has some lofty predictions for the Ohio cannabis industry. While adult-use could launch as soon as September 2024, BDSA doesn't think it will open until 2025. However, the firm projects recreational-use will account for $300 million in sales alone, with combined sales reaching $820 million that year. By 2027, BDSA believes sales could eclipse $1.65 billion.
"Ohioans have spoken and are clearly excited and eager to join the majority of Americans who wish to live in a state that promises to curb the illicit market and to provide safe and equitable access to tested cannabis for everyone aged 21 or over," said Lucas McCann, co-founder and chief scientific officer of CannDelta, a cannabis consulting firm. "Ohioans will soon see a bolstered state economy, increased job opportunities, and tax revenue that can be reinvested in Ohio's aging infrastructure. like schools and hospitals."
Issue 2 also allocates funding to establish a social equity and jobs program, and to study expungement and sentencing reform.
"The passage of Issue 2 marks a significant milestone in Ohio's journey towards cannabis legalization, reflecting the evolving sentiments of the state's residents. However, our celebration is tempered by the realization that the absence of automatic resentencing and record clearance provisions leaves a crucial aspect unaddressed," said Stephen Post, senior communications associate at Last Prisoner Project. "While the ballot measure signals a positive shift in public attitudes and state policies, the state received a grade of 'D-' in our recent State of Cannabis Justice Report. Ohio still falls short of providing immediate relief to individuals like Harold Thomas, whose lives have been profoundly affected by cannabis-related convictions.'
Thomas was convicted of trafficking cannabis in Ohio and sentenced to eight years in prison.
While the Last Prisoner Project acknowledged the progress, it urges Ohio's policymakers to act swiftly in enacting state-initiated, comprehensive relief measures. "The fight for justice extends beyond legalization; it demands a commitment to right the wrongs of the past, ensuring that those unjustly burdened by cannabis convictions find redress and freedom," Post added.
"In the years ahead, more states will adopt legalization and further increase pressure on Congress to address the glaring conflicts between state and federal law regarding cannabis," MPP's Schweich predicted.