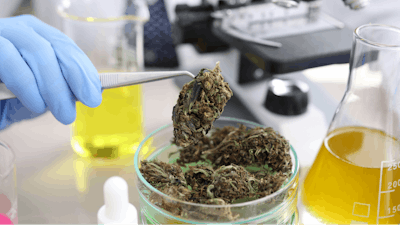 iStock
While retail cannabis dispensaries may be the most recognizable face of the expanding legal marijuana industry, the "green rush" can also be seen in perhaps a more surprising spot: the laboratory.
According to Global Market Insights, the U.S. Cannabis Testing Market is expected to be worth more than $4 billion by 2027, up from just over $2 billion in 2020.
But quality control doesn't just mean ensuring the potency of cannabis products or removing contaminants. Quality control in cannabis manufacturing also involves meeting the compliance and safety requirements of the regulatory bodies in a particular jurisdiction.
In this guide, we'll take a look at how adhering to the industry's compliance requirements can help cannabis companies maintain quality standards and create a culture of safety and risk management in the workplace.
The report chalks this growth up to three factors:
Growing legalization pertaining to the use of cannabis across various U.S. states
Rigorous regulatory requirements implemented by authorities to ensure superior quality products
Rise in the number of testing laboratories and increasing cultivators of marijuana
How establishing SOPs can help with quality control
As of March 2022, 18 states have legal medical and recreational marijuana and 19 have approved legal medical marijuana programs.
Each of these states has a different regulatory body overseeing medical and/or recreational cannabis. And without legalization on the federal level or standardization in cannabis testing, the guidelines governing cannabis can differ widely from one local jurisdiction to the next, making it especially difficult for cannabis professionals to keep up with the compliance demands of the industry.
One of the main ways that cannabis companies stay ahead of these requirements is by using carefully-crafted Standard Operating Procedures (SOPs).
What are SOPs?
Standard operating procedures are the instructions that cannabis companies use to ensure specific tasks and procedures are carried out according to the regulatory requirements.
SOPs are meant to be very clearly defined and easy to understand and carry out consistently every single time, no matter the employee's level of experience.
What do SOPs do for quality control?
Ensure consistency by requiring tasks to be carried out in the same precise fashion every time throughout the manufacturing process, not just at the end of the production cycle
Boost safety by setting specific guidelines for tasks, leaving little room for guesswork or "winging it"
Provide the step-by-step instructions to ensure that companies meet their compliance requirements
Make compliance adherence much more efficient, freeing up time to focus on tasks like quality control
Part of what makes SOPs especially effective for cannabis businesses is that they cover many issues that even the savviest cannabis professionals may miss. These include the precise requirements for waste removal, how to render cannabis waste, the placement of surveillance cameras, and which cleaning products are allowed in the cannabis workplace.
By following the SOPs, companies don't leave these issues solely to the employee's vigilance on the production floor, simplifying compliance adherence and quality control for cannabis companies.
How packaging and labeling problems can torpedo a cannabis manufacturer
It's easy to imagine how a cannabis packaging fiasco can play out.
Imagine, for instance, a long-haul trucker who uses a CBD tincture to deal with back pain. Now imagine that the company that made the tincture got the packaging mixed up in a specific batch, and the tincture in question actually includes a generous amount of THC.
Or picture an edibles company that doesn't include the correct information about possible allergens. Or what if the packaging on those edibles was not child-proofed, and they made their way into the hands of children?
Simply put, cannabis is no typical retail product, and packaging mistakes can be especially harmful to cannabis companies.
Why trustworthy third-party testing labs are so important
For most cannabis consumers, there used to be only a handful of metrics to use to assess cannabis.
These often included the strain name, whether or not it was considered an Indica or a Sativa, and how much Tetrahydrocannabinol (THC) it contained.
As the industry has grown and the consumer base has matured, our understanding of what makes cannabis effective has become far more SOPhisticated. Countless consumers now know to look for the full cannabinoid and terpenes profile when they make their purchase.
They also know to take a closer look at the certificate of analysis (CoA) on the label to see contaminants in the product, such as heavy metals, pesticides, bacteria, or mold.
But what to look for when shopping for a trustworthy third-party testing lab?
ISO:17025 (International Organization for Standardization) accreditation
State Required accreditation
Meets GMP (Good Manufacturing Practice) standards
Do their CoAs test for all state requirements
Industry reputation and customer feedback
What should independent cannabis lab results show?
Test company name and address
Batch number, date, and product description
Potency results for cannabinoids
Terpene profile analysis
Presence and amount of contaminants (microbials, pesticides, heavy metals, solvents)
Final approval or signature of laboratory professional who performed testing
Another principle for testing is not to focus solely on the price. Investing in a trustworthy, industry-proven third-party lab shows that your company puts safety and transparency first.
The importance of carrying out product recalls and disposing of returned products
In November 2021, state officials issued a health and safety bulletin as part of what the Detroit Free Press described as "likely the largest marijuana recall in Michigan's history."
The issue in question was "inaccurate and/or unreliable results" in cannabis products tested by a Michigan laboratory company.
According to the Detroit Free Press, "cannabis lawyers say they're hearing that not only are several dispensaries affected, but the vast majority of the products they sell are, too, which could put some companies out of business."
One estimate in the article puts the value of the recalled marijuana products at more than $200 million.
The stakes are high when it comes to cannabis testing and quality control. For cannabis companies, dealing with such incidents requires the implementation of precise recall procedures, which are detailed in recall SOPs.
The stakes are high when it comes to cannabis testing and quality control. For cannabis companies, dealing with such incidents requires the implementation of precise recall procedures, which are detailed in recall SOPs.
Recall SOPs include:
Voluntary withdrawal or mandatory recall
Recall team duties and communication
Tracking withdrawn and recalled cannabis products
Returned, withdrawn, or recalled cannabis products
Mock withdrawal or recall drills
SOPs that deal with recalls stipulate that a company must recall any item that poses a risk to public health and safety, contains a defect, or fails to meet internal quality control and dispose of it according to the requirements of cannabis waste disposal regulations.
Cases in which a recall can be issued may include:
Cases in which a recall can be issued may include:
Evidence that illness or injury has been caused by the use of the product
Vulnerable populations (immunocompromised, pregnant women, children) may be exposed to the product
Consumers will experience adverse health consequences from product
Presence of illegal or restricted chemicals
Presence of pesticides that surpasses the legal limits
Incorrect labeling
Known or suspected contamination by physical, microbiological hazard, or immunological concerns
The importance of security and safety for cannabis producers
Cannabis manufacturing facilities may not have points of sale and large amounts of cash and inventory on hand, but they represent a valuable target nonetheless.
These facilities contain large amounts of valuable equipment and often finished products awaiting distribution. But that's just when it comes to physical threats. Cannabis manufacturing facilities can also be targets for cybercriminals, who can seize and halt production lines and hold them for ransom.
But physical and cyber threats aren't the only safety concerns facing cannabis producers. Protecting employee and customer safety is also a paramount concern.
Employees can face a wide range of dangers in the cannabis workplace, including exposure to dangerous substances like bioaerosols and volatile organic compounds, as well as detrimental effects to their thermal and respiratory health.
And both employees and customers can be subject to injury from slips and falls and other hazards in dispensaries and cannabis production facilities.
For cannabis manufacturers, security and employee safety is of crucial importance to daily operations. Failure to ensure a safe workforce can result in workers' compensation and liability claims, as well as severe disruptions to the production cycle. By reinforcing the proper occupational safety and health SOPs, cannabis companies can go a long way towards mitigating these risks and ensuring the production line hums along smoothly.
Manufacturing compliance - With Rootwurks, you aren't on your own
The safety risks faced by cannabis manufacturers are pervasive, and the compliance demands of the industry are legion.
Rootwurks helps cannabis professionals simplify this world through the Rootwurks Learning Experience Platform (LXP), a cannabis education and compliance assessment tool designed specifically for the industry's regulatory demands.
The Rootwurks LXP uses a sophisticated suite of digital tools to assess compliance and safety regulations, freeing cannabis professionals to focus on what they love doing.
The platform:
Creates fully-customizable and trackable action plans for preventative and corrective compliance actions
Analyzes and assesses company adherence to industry standards and regulations, based on the unparalleled cannabis law expertise of our partners at Vicente Sederberg law firm
Allows for the real-time monitoring of all company compliance actions from a single dashboard
Includes pre-built and fully-functional compliance assessments and checklists that can be customized to fit any cannabis company
But the LXP doesn't focus solely on the specific wording of cannabis compliance regulations. It also contains an extensive library of educational "awareness modules" and brief, 5-minute "micromodules" to boost employee awareness of cannabis compliance, safety, and best practices.
In other words, the LXP has the automated tools to go through a company's compliance performance with a fine-toothed comb and also provides cannabis professionals with the awareness and methods to make safety and compliance a fact of life every day at work.