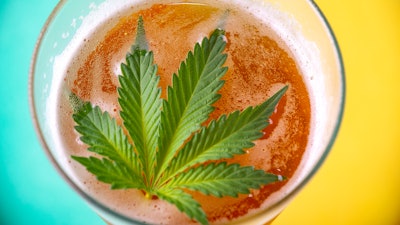 iStock
Minnesota Gov. Tim Walz signed a bill last week legalizing recreational cannabis. Beginning August 1, 2023, the state will be the 23rd in the U.S. to end cannabis prohibition. The legislation proposes that retail sales for adult-use cannabis in Minnesota begin in the first quarter of 2025, and it presents some new opportunities to cannabis operators.
For the first time in the United States, THC products can be sold outside licensed cannabis dispensaries, like liquor and convenience stores. According to Paulo Sobral, general manager at cannabis beverage maker Cann, by allowing low-dose products at alcohol retailers, Minnesota has validated that a large addressable market exists for cannabis beverages.
However, cannabis beverages face an uphill battle. Snowden Stieber, a regulatory analyst at cannabis compliance software company Simplifya, says beverage makers may struggle to differentiate their products from hemp-based products.
Lower-potency THC hemp edibles will continue to be legal in the state, but they will have to meet the same regulations set for the cannabis industry by the Minnesota Office of Cannabis Management (OCM), which will regulate the state's medical and adult-use markets as well as lower-potency hemp edibles.
According to Stieber, the cannabis versus hemp confusion is a persistent challenge across the country, but Minnesota's new system adds a new wrinkle. By allowing Delta-9 THC from both sources, the pressure is on cannabis operators to make the differences clear to customers, while hemp-based retailers might not be as keen to call it out.
Hemp businesses currently in operation must register with the Minnesota Department of Health by October 1, 2023, and will eventually require an OCM license. In addition, manufacturing and retail facility inspections will be obligatory as well.
While hemp-infused beverages will compete for shelf space, their market presence is an advantage for prospective cannabis beverage makers as they've already expanded some Minnesotans' perception of cannabis. "We are still in the early days of promoting cannabis to broader audiences outside of frequent consumers," says Stieber. "Beverages with 5mg of THC are an accessible means for new customers to approach cannabis consumption; plus the fast-acting nature of the beverages as opposed to edibles gives newcomers a more controlled experience with less chance of overconsuming."
Still, once the secret is out and consumers learn to differentiate products, Stieber thinks hemp-based offerings will be left in the lurch. "When offered side-by-side, I don't think the hemp-based beverages stand a chance."
As the industry has experienced when previous states have come online, the initial excitement will likely cause a mad dash to the market.
"You will see a rush of new products as many of the breweries in the state have been creating [hemp-based] products for a while now. With this new law, I feel there will be a flood into the market," says Wade Woods, the owner of Honeybee Cannabis in neighboring Wisconsin. "You will see a lot of competition in Minnesota in the coming months, and I will have an eye on it." Woods makes hemp-derived THC-infused sparkling waters sold in bars, breweries and other locations. His products have seen some local success in the still cannabis-prohibitive state.
Education will be vital to the beverage market's success. According to Sobral, the onus will be on the drink makers to inform customers via labeling. "Consumers are still largely unfamiliar with the world of cannabis beverages, and it's crucial to address this knowledge gap," Sobral says. "When customers step into a dispensary, they may already assume that the products contain cannabis. However, in grocery stores or bars, the allure of attractive branding can entice individuals to purchase these beverages without realizing they contain cannabis." He says retailers need to take proactive measures to ensure consumer safety.
Sobral also stresses the importance of implementing age verification for cannabis consumers and training store clerks about the products. "[Clerks] should be equipped to educate consumers during the checkout process, providing clear and concise information about the low doses of cannabis present in these beverages."
Cannabis Beverages Sold at Stadiums, Music Venues
Minnesota's THC beverage sales provisions make it one of the more intriguing markets in the United States, according to Stieber. "There remains much to be hammered out, but one could make a convincing argument that Minnesota could be the first state in the country to have a clear path to permitting sales of THC beverages at stadiums and concert venues," he says.
With an appropriate endorsement, it's possible that lower-potency hemp edible (LPHE) retailers could allow on-site product consumption and won't be bound by the same access requirements as a fully licensed cannabis retailer. So, Stieber says, he envisions the possibility for a stadium to apply for and operate an LPHE retailer license in the near future, which could significantly expand the market for cannabis products.
Marketing Restrictions & Requirements
The new legislation will likely significantly impact how low-potency hemp edible businesses are marketed, as they will be held to the same standards applied to cannabis businesses. Both groups must make sure that all marketing materials are above board. For example, Stieber says brands must avoid making false statements, unverified health claims or encouraging overconsumption. Companies need to be extremely careful not to produce any marketing material that could appeal to minors, so no cartoons.
Marketing beverages outside of dispensaries is an entirely different game, but cannabis beverage makers could be reticent to adopt traditional capital-intensive marketing pushes that have been successful in the consumer packaged goods (CPG) industry.
"Dispensary marketing is all about ground game and personal relationships with shops from management down to budtender personnel," says Dan Grim, CEO and founder of California-based Good Stuff Manufacturing. "Marketing in the real world opens up a slew of marketing opportunities that we don't currently deploy in the dispensaries."
A new Farm Bill could pose another obstacle for risk-averse marketers. Grim says a revised federal Farm Bill could come within six to 24 months and upend the market. "Running a traditional, capital-intensive CPG playbook makes even less sense because of the additional risk," Grim says. "This world is swirling with opportunity, but also a potential expiration date."
Potential, Expectations Remain High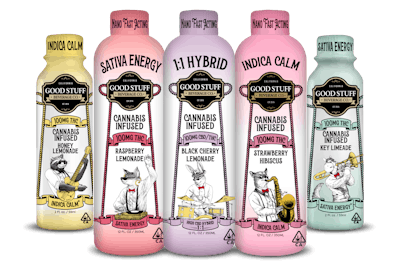 Many industry insiders believe cannabis beverages remain an undervalued and underexposed product category. Beverages are typically lumped into the edibles category, including gummies and chocolates. Collectively, the products only accounted for about 11% of sales in 2021, according to Flowhub. However, according to Headset, beverage sales did grow by 10% in 2022, which they attribute to changing consumer behavior that has seen increasing interest in edibles, vapes and pre-rolls, with significant drops in tinctures, topicals, flower and capsules.
"Cannabis beverages have the potential to surpass alcohol sales if we overcome the existing stigmas and access limitations," Sobral adds. "Drinking is normalized across society, and the cannabis beverage experience will destigmatize cannabis far quicker than inhaling it will."
According to the Distilled Spirits Council, liquor sales totaled $37.6 billion in 2022, and the Brewers Association says beer did an estimated $28.46 billion in sales last year.
Sobral says a large part of the opportunity in Minnesota is not just the ability to sell cannabis alongside alcohol but the distribution – cannabis beverages can come in on the same trucks.
"Minnesota continues to be the cannabis beverage community's hero," adds Grim. "Their legislation is allowing the industry to prove out a radical hypothesis: We can regulate cannabis beverages similar to alcohol without the need for the overregulation that is cutting off consumer access and creating onerous business environments."
Other States
As Minnesota sets the new standard for adult-use legalization, other states are likely monitoring it closely, hoping to replicate its successes. If and when copycat states come online, the opportunities for beverage manufacturers will multiply.
"When that day comes [if other states follow suit], we will be well-prepared to meet the overwhelming consumer demand. By staying ahead of the curve, adapting to evolving regulations, and anticipating market shifts, we position ourselves as industry leaders ready to provide exceptional cannabis beverage experiences to a broad audience," Sobral concludes. "The path to success lies in our ability to seize these opportunities and create a lasting impact in the evolving landscape of the beverage industry."